This Musical Genius Hates Self-Promotion, So We're Going to Do it For Him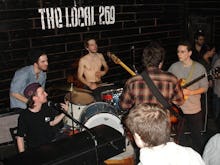 Tom Barnes is fascinated by how music changes over time, and his writing about it attempts to anticipate where it is going next. In his own music and fiction, the characters he sketches grapple with similar questions about the possibilities and uncertainties of their rapidly unfolding futures.
Who is Tom Barnes? He's our hip hop-loving, three band-drumming, arts + entertainment pundit of the week. Tom's work probes everything from how Kendrick Lamar & Drake brought hip hop back to life or why 2014 will be the year of the female rapper.
The crux of Tom's editorial success (à la serious views + shares) lies in the unique vantage points he offers on otherwise familiar content; as pundit of the week, Tom speaks candidly about what drives the best web content, and how Elvis Presley empowered sex (not necessarily in that order). Elena Sheppard addresses Tom's curiosity on the marketing tactics behind offensive art. 
Caira Conner (CC): First things first. When and why did you get involved with PolicyMic? 
Tom Barnes (TB): I got involved with PolicyMic after I graduated NYU in June 2012. I had a lot of ideas and a lot of time, as I had no job. PolicyMic was still in its infancy with its 1.0 website, when I stumbled upon its call for writers. I liked the venue, it seemed like a very open forum, and as such, its news seemed comprehensive and appropriately conscious of its bias. I started out writing anything and everything. I wrote some politics, some TV pilot critiques, a piece or two about the London Olympics. Elena Sheppard was the first editor I had any close contact with. She saw that my music articles showed a lot more depth than my other pieces and started encouraging me to write straight music. Music is the area where my passions lie, and I was thrilled that somebody could recognize that from the way I wrote about it. It's been all music ever since.
CC: You've written brilliantly on hip hop and the fusion of music and politics for our Arts & Entertainment vertical. What fuels those interests? What's been your favorite piece for us? Do you have a least favorite? 
TB: Music can share ideas and emotions in a way no other art form can. It is a progressive force. It provokes society to look closely at certain aspects of itself that it can't come at directly, for whatever reason. For example, Elvis in the 1950s forced people to consider the power of sex, which helped open society up a bit, leading to the progressive movements of the 1960s and '70s, fueled again by music. Basically, Elvis and music created our modern inclusive democracy. Artists see clearer than most, and it's important to try to spread their messages, because the industry isn't strong enough to move music by itself these days. It needs blog coverage, buzz, and other medias.
My Drake v. Kendrick Lamar piece is simultaneously my favorite and least favorite piece I've written on PolicyMic. I got a lot of great feedback on that piece, and many that read it really understood the developments I was trying to call attention to. However, I feel the larger point I was trying to make was obscured some of the buzzwords I came at it with, such as "Feud" and "Beef" and "Kings." A lot of the discussion became an argument over the meanings and applications of these words, rather than a discussion of hip hop's expanding ability to capture new stories and temperaments.
CC: What do you think makes for the best kinds of writing on PolicyMic? What do you consider when selecting angles for your work?
TB: The best pieces I've seen come at their topics with a bit of humor. They start by honing in on a contradiction, build to a very serious and divisive conclusion, before backing out again with a smile. I'm thinking of Zak Cheney-Rice's most recent "How to Love R. Kelly, While Still Hating R. Kelly" and his "Why White People Won't See 'Black Movies.'" Both those pieces showed some fantastic insights but relate them in a disarming way that opened up the conversation, rather than locking it down under an air of authority. I try to take broad angles that provide space for humor and wide varieties of unexpected anecdotes/opinions.
CC: If you had to pick one thing to change about your PolicyMic writer experience, what would it be and why?
TB: The writer-editor relationship I have now has been an incredible asset to my recent work. I used to have two or three different people involved with editing, pitching, and posting stages. No offense to my old editors or anything, but now that the process has been consolidated, I feel I am getting a new level of support and renewed motivation to take my writing further. I wish I had started working in the singular and consolidated editorial system sooner.
CC: Let's go offline. What do you like to do when you're not PolicyMic-in'?
TB: It's still all music offline. I play drums in three bands — one country/doo-wop, one punk, and the other pop. I also used to do a lot of hip hop. I'm trying to learn the piano and when I don't have shows over the weekend, I like to get out of New York. I head north to the Catskills to rock climb, or out into Connecticut to hike. I also write a lot of fiction. Fiction got me into writing in the first place and I feel it's important I continue to develop that craft. I've got stories to tell.
CC: Your turn. What's one question you have for a member of our staff?
TB: My question is for Elena Sheppard. I read an interesting article on "Being Offended in 2013" the other day. I'm interested in your reaction to this passage:
"[W]ebsites have more and more economic motivation to actively seek out ostensibly offensive content that most of us would never be exposed to otherwise. But in doing so, they perpetuate the production of such ostensibly-offensive content: in 2013, websites like Jezebel, Buzzfeed, Flavorwire, Upworthy, and The Atlantic helped Miley Cyrus make enough Benjamins to bankroll a lifetime's worth of diamond-crusted grills and booty-shaking backup dancers."
Do all the articles written about Miley Cyrus twerking and Robin Thicke being creepy encourage artists to make more offensive art? Are these artistic and journalistic trends sustainable?
Elena Sheppard: Thanks for the question Tom! It's a bit of a chicken or the egg question, isn't it? My honest opinion is that "offensive art" has been a reality (and a marketing tool) since long before the internet existed. When Elvis went on the Milton Berle Show in 1956 to sing 'Hound Dog' and shake his hips, the world responded with the same shock and outrage they hit Miley with in 2013. I think if the internet had existed in 1956 #ElvisHips would have trended, and countless op-eds and rants would have been published about the insensitive vulgarity — as it was 1956, the response was left to print and television. So yes, I think that attention is definitely a motivator for a lot of shock-art and performance, but I don't think it's anything new. It's been working for decades and it will keep on working. We are definitely in an era of high-concept gimmick (like Miley or Robin Thicke), but even when that fades from popularity people will find the next thing to talk about. 
CC: Amazing. Thank you for bringing your voice and work to PolicyMic. Look forward to hearing much more from you.
For more news on Tom and his music, follow him on Twitter:@HotChiliGumbo