Ralph Nader Tells PolicyMic How 20-Somethings Can Change America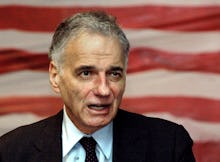 After five unsuccessful presidential campaigns that began in 1992 — and a candidacy in 2000 that some say helped send George W. Bush to the White House — Ralph Nader is far from kicking back in retirement. He recently published a new book, Told You So: The Big Book of Weekly Columns (which shares his best weekly musings on nader.org), and he continues to speak out on just about everything, from the decline of the U.S. Postal Service to the importance of renaming the Washington Redskins.
Apparently, when you're Ralph Nader, no topic is off-limits — and in an exclusive interview with PolicyMic, he dished about millennials and the issues that affect them the most.
Needless to say, Nader has been closely following the botched rollout of Obamacare, which he believes "goes way beyond the computer issue." Although he thinks there are elements of the law that are good — namely, the end of insurance discrimination against Americans with pre-existing conditions and the new protections allowing young adults to stay on their parents' plan — Nader wants the law to do much more.
"Everything you can say that's good about Obamacare — and there's a lot more bad than good — is subsumed [by the potential benefits of a single-payer system]," he told me.
Indeed, Nader bluntly thinks that Obamacare isn't going to work, in part because millennials are "not going to register in the percentages that Obamacare promises its success on, even after the computer glitches." With one recent poll suggesting that 57% of millennials oppose the Affordable Care Act, young people now have "a perfect opportunity to dig in" and fight for single-payer coverage, Nader believes.
But health care isn't the only issue where Nader sees great potential for young Americans to make an impact. From racial injustice to economic inequality, the 79-year-old sees no shortage of challenges facing the next generation of Americans — and he thinks it's time for more young people to confront them head on.
"People in their 20s have to become much more serious about themselves," he said. "They have to have a higher estimate of significance that they can change things," at least in part because of their sheer numbers, creativity, diversity, and willingness to tackle old problems with innovative solutions.
For Nader, some of the millennials' best forays into activism were on display during the Occupy Wall Street movement in 2011, when thousands of young people called for a paradigm shift in our economic system. "The 99% is one of the great slogans of all time," he said, and protesters successfully used it to capture the attention of mainstream media.
But in Nader's view, the occupiers missed an enormous opportunity to use the energy of that moment to win lasting reforms, such as increasing the minimum wage, taxing Wall Street's excesses, and increasing funding for government prosecutions of Wall Street wrongdoers. Sadly, Occupy simply lacked the level of organization needed to get those things done.
"There's a lack of what I call 'justice savvy' about what it takes, how much it takes, when it takes, how it takes to get things turned around," Nader told me. "So what set in [in the movement] was discouragement and demoralization."
One of the ways Nader thinks young people could "get things turned around" is to do what Occupy failed to do: "produce more leaders, not followers" and study up on the historical organizing successes in the '60s and '70s. Even more, millennials should spend more time collaborating face-to-face and less time in the "virtual reality" of the internet. "Things get done when people are in the room together," Nader argued. "Things get done in reality."
With many challenges awaiting them, millennials' accomplishments will ultimately be judged by history, said the seasoned activist. "We want to be convinced by actual achievements."