Beyoncé Serenades Terminally Ill Fan With 'Survivor' in Moving Concert Video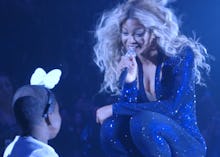 A terminally ill girl's dying wish came true recently when she got to dance with her idol Beyoncé, thanks to the Philanthropy Program Partners and the Make A Wish Foundation.
Taylon — who suffers from an inoperable brain tumor — was rocking out at the Las Vegas show of Beyoncé's "Mrs. Carter" tour when the superstar surprised her fan by swinging over to her place in the audience. The two shared a tearful hug and a sang few moments of song during "Love on Top," before Beyoncé proceeded to serenade her young fan with the Destiny's Child song "Survivor."
A powerful video of the emotional few minutes was uploaded recently by Beyoncé's Youtube channel. 
Taylon, her family, and representatives of Make A Wish and the Philanthropy Program Partners were all in attendance at the concert, and everyone appeared moved by the moment shared between Beyoncé and her young fan. Ivy McGregor of the Philanthropy Program Partners commented, "[Taylon's] thought that will forever stay with me is, 'Im here, I might as well live.'"
Beyoncé has been making headlines lately with the surprise release of her new album and her new tour. Combined with her unexpected visit to a Walmart to meet and greet fans and now this amazing deed, the more cynical of us might claim that she's doing all of this just to sell more albums and tickets to her concerts. But even if all of this is a publicity stunt, Beyoncé is still using her star power to bring genuine joy to her fans. It might be part of her marketing campaign, but it's also making people happy, and that means something.