2013's 20 Best Films for Every Kind of 20-Something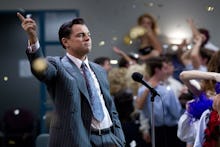 Christmas may be over, Hanukkah and Thanksgiving firmly in the past, and Chinese New Year not for a while: But whether it's a birthday, a festival, or just because you think they need something to do that isn't Facebook, we all find ourselves trying to think of a DVD we can get our friends. The wand may choose the wizard Mr. Potter, but PolicyMic can help you choose the perfect cinematic present for all the young people in your life, and also figure out what your seasonal haul says about you.
Be sure to check out our list of the 20 best books for all your 20-something friends, too!
1. For the reluctant feminist
Sometimes feminism can seem a bit scary. It shouldn't, but it can. Whether your friend doesn't think that her very empowering thoughts are feminist, or she's afraid of becoming a knits-her-own-lentils cat lady for no good reason at all, you might need some baby steps to convince them feminism means nothing other than being a reasonable, respectful human being.
Frozen is Disney's perfect way to do just this. Though it may have been poorly marketed, made by some very ignorant animators, and doesn't exactly portray a broad spectrum of female body shapes in it's cast (then again, it is set in Scandinavia, where everyone is a supermodel), it features a kick-ass final scene that made me sit up and scream "YAY GIRL POWER" before knocking over my Diet Coke. It's not exactly Simone De Beauvoir, but The Second Sex would be a crap musical anyway.
2. For the one who's life goal is to be in 'Gossip Girl'
Woody Allen might as well have called Blue Jasmine 'What Happens to Serena van der Woodsen,' because if Cate Blanchette is anything in this movie, it is a perfect portrait of what a sense of entitlement can get you if you don't know how to work for your rewards. If your friend has always wanted to live on the Upper East Side — and not for being a well-paid neurosurgeon/lawyer/etc. — then they might need to watch this cool glass of reality.
3. For the Francophile
Possibly the most French anecdote I've ever heard is the one where Brief Encounter, England's 1945-anthem to fidelity, travelled across the Channel and was laughed at by French audiences who just didn't understand biting one's lip in the face of real sexual chemistry. "Why didn't they just sleep together?" the audiences laughed. 
In 2013, Blue Is The Warmest Color seems to have taken that sentiment to it's natural conclusion by making a film that made everyone ask "Why don't they do anything except sleep together?" Blue Is the Warmest Colour is a passionate and beautiful portrait of a lesbian relationship, but when a film has so much sex that it has to turn to prosthetic vaginas, you begin to realize that the director got a bit one-track minded.
4. For the one who thought 'Goblet of Fire' was the best Harry Potter
AKA, people who are wrong.
Some people can't get enough of fantastical tournaments in school environments. At least, that's what Monsters University banked on. Unfortunately, it missed the chance to take a really interesting look at college life with intelligent but universal comedy and instead just remade Goblet of Fire with some jokes about the Greek system. Which, surprise surprise, don't make sense to anybody who went to university (that's non-American for "college") in any other country. You'd have thought star Dame Helen Mirren would have told them it wouldn't make sense, but she was probably too busy making more inappropriate remarks about rape.
5. For the one who needs to check his privilege
First world complainers are not always as self-aware as they should be. For every person who's got hummus on their Macbook charger, or found Turin to be less satisfying as when he summered there last year, Steve McQueen has a perfect three hour 'go fuck yourself' and it's called 12 Years A Slave. The bleak film is quite rightly being hailed as a modern masterpiece. Hopefully viewers will walk away with a deeper appreciation of America's horrific past — and perhaps a less aggressive swagger.
6. For the one you hate on Instagram
Three things in life are guaranteed: death, taxes, and Instagram envy. But a good rule of thumb to remember is that the better the photo, the worse the actual experience it documents. It's much the same with Baz Luhrmann's adaptation of The Great Gatsby: beautiful, a bit nauseating, and completely misdirected.
7. For the friend who always has a better story. Apparently.
If you've ever been friends with a comedian, you know that your anecdotes and jokes are never allowed to be the best ones in the room. Or at least, your friend will try to prove that they aren't, and often produce an awfully unpleasant spin-off from your relatively pleasant tale.
The Hollywood equivalent is Oz: The Great and Powerful — a blatant display of cashing in and one-upmanship that never should have been made.
8. For the one who's still talking about his year travelling the world
We all have that friend who found himself on a year abroad, and seems to have been on commission to send you there ever since. Wwoofing in Estonia might have made a couple of posh boys sweat and blister, but when you're tired of their stories of roughing it, hand them Gravity. In the film, Sandra Bullock gets lost in space with almost no oxygen, and is bombarded with a seemingly endless stream of beautiful — but deadly — explosions. Maybe after your friends hear how infuriatingly tacky her speeches are, they'll stop going on about all the wisdom they gained living without an iPhone.
9. For the one who's only in it for the eye candy
For all of Donald Sutherland's hopes that this series will politically motivate the young, what's really getting the teens to go to The Hunger Games is the prospect of seeing Liam Hemsworth and Josh Hutcherson in various states of undress and submission (nothing says repressive adolescence like a bit of dystopian S&M). If you're worried about what to get a girl who treats the male population like an Urban Outfitters sale rack, Catching Fire might be the perfect gift. And hey, maybe it'll make her more of a socialist, too!
10. For the one who thinks he can't be a racist if he's retweeted Obama
Anchorman 2 was a funny film, and the battle scene might be the pinnacle of great cinema (sorry Citizen Kane). But for a film about prejudice in the workplace, it manages to be a lot more offensive than it should: Transexuals? You're deceptive Bowery-dwellers. Gays? You're just a funny inconvenience in a male friendship group. Women? Nags.
It's the perfect gift for that someone who's always full of flimsy justifications for unnacceptable behavior.
11. For the Williamsburg-obsessed
Sometimes I can understand why previous generations have so little sympathy for us. I think it's because we make films that explore how tough it is to get a break as a professional dancer — but instead of Fame or A Chorus Line, we make Frances Ha. As much as I love Greta Gerwig and Noah Baumbach, there is only one niche group who will really appreciate a quirky black and white bildungsroman following a 20-something Brooklynite. And that group consists of 20-something Brooklynites, or the people who aspire to nothing more in life than wearing corduroy shirts and professional blogging.
12. For the geeky friend who loves to binge on Wikipedia
Some of us just wanted a nice modern The Hobbit — a cinematic spectacle that would remind us that the tale is a true literary classic, and not just something Leonard Nimoy once sang about. Instead, Peter Jackson read The Silmarillion and decided he needed to put that on screen at the same time. Thus he made a trilogy, the second installment of which we got this year: The Hobbit 2: The Desolation of Smaug. While those of us who were looking forward to a ripping yarn may want to tear our eyeballs out around the fifth hour, we all have the friend who thinks this was the best decision ever made. Probably the same friend who thinks Jar Jar Binx wasn't actually that bad.
13. For the sci-fi snob
Upstream Color is the ideal gift for that friend who only likes science fiction if it's difficult to understand and loaded with a philosophical message. Written, produced by, directed by, and starring Shane Carruth — who also made what is possibly the most realistic depiction of time travel ever in the cult classic Primer — this new film explores parasites, romance, and lots of other things that nobody quite understands. Anybody who liked 2001: A Space Odyssey will be eternally grateful for this one.
14. For the token Brit
There is possibly nothing more English than Sightseers. It's so English, in fact, that those from abroad may need to brush up on our culture to really understand it's brilliance. This one is as quintessentially English as a tea cozy or an Alan Bennett play, as surreally quaint as Victoria Wood, and as bleak as a Yorkshire rainstorm. Alice Lowe, one of the nation's finest comediennes, teams up with long-time work partner Steve Oram for a murderous thriller following two caravaners exploring England's second rate national treasures (well, except for Blue John Cavern, which is legitimately enjoyable). Anyone who thinks she knows how the English tick will find the ultimate litmus test in this ode to our innate fear of the domestic and love of the gory.
15. For the foreign affairs junkie
We all have that friend who just doesn't think fantastical or unusual conversations can compare to a thorough talk about what's happening in Syria. Fair play to them, I say — but they're not the easiest people to buy a DVD for. Never fear: 2013 has been a sublime year for documentaries, from the likes of Black Fish onwards. But if you're really looking to satiate the geopolitical addict amongst your friends, look no further than the Oscar-nominated The Square, which is all about revolution in Egypt.
16. For the Shakespeare-obsessed
I couldn't bring myself to watch this movie, to tell the truth, but considering Julian Fellowes decided to rewrite bits of Romeo and Juliet just in case we didn't get them when he adapted it for cinema, I can't help but feel I made the right choice. (This is especially troubling when you consider that this is the man who gave us Seasons 2 through 4 of Downton Abbey. Admittedly, he also gave us Season 1 — but everyone gets lucky sometimes.)
For those who quite like Romeo and Juliet but not enough to remember the pentameter of each speech, this film still might make for a good offering this festive season. Also the cast is quite attractive all round, so the film gets away with slightly more as a result.
17. For the one who wants to be David Sedaris
We all probably wish Jonathan Groff would be the person who played us in the movie of our lives. Somehow David Sedaris got there first, which is cool because he's amazing, but is annoying because now we're all just going to be copying him. Nonetheless, everybody has a friend who will probably become the next David Sedaris, and that friend should be bought a copy of C.O.G. Nothing says "Happy New Year!" like a self-deprecating autobiographical account of apple farming.
18. For the one you usually buy flavoured teas
For that friend who only took a break from chronicling her dog's life on Instagram to put up an image of her adorable Christmas tree, or brag about that fantastic dinner with her 10,000 best friends, About Time is the perfect gift. Richard Curtis does a lot of things well, but he does one thing with particular aptitude: appealing to those who think investing in cashmere just makes sense, and who know Le Creusets don't go in the dishwasher. By basically taking The Time Traveller's Wife and wrapping it in a robust fleece, he just increased the amount of nice nights in we're not going to stop hearing about this holiday.
19. For the Dylan disciple
Everyone has that friend who thinks he's Bob Dylan, who has written so many songs that it's impossible to not find something you can't speak to, and is now so decrepit when he performs that there are tone deaf recluses who could put on a more personable and harmonious concert. For all of your friends who can't accept that the 60s are over and Woodstock is now just a yuppie outpost, Inside Llewyn Davis is perfect. It's almost too much for serial Ray-Ban-wearers to take, but throw in some sheepskin coats and Carey Mulligan and they won't even notice the fact Justin Timberlake makes an appearance.
20. For the period drama addict
England had just learned to produce fun, approachable period movies when the entire nation seemed to conclude that it's no longer okay to have a bright color palette (there's a recession going on you know). The Invisible Woman takes the bleached sobriety we mangle literature with and puts it into the real world. Ralph Fiennes becomes a new age Kenneth Branagh and directs himself in a relationship with Felicity Jones, which feels a bit weird. We won't laugh once, but those who secretly want to wear a bonnet in the throes of passion will be all over this.