Golden Globe Predictions 2014: Who'd Win if Younger Fans Called the Shots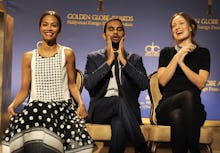 On Sunday night, I'll be glued to my TV screen and Twitter, scanning the media's reactions to the winners and losers of the 71st Annual Golden Globe Awards, hosted by funny gals Tina Fey and Amy Poehler.
But what might be even more surprising than who will take home the gold and who will be left empty-handed is the impressive list of contenders that did not even make the cut. If the Hollywood Foreign Press Association (HFPA) had consulted our generation for this year's nominees, the following actors, shows, and films would be going for the gold:
1. James Franco for 'Spring Breakers'
James Franco been easy on the eyes while exuding an unspoken intellect since his days on Freaks and Geeks. The actor stepped outside of his comfort zone when he transformed into the wannabe-gangsta Alien , adding an extra layer of grit to Harmony Korine's controversial Spring Breakers.
2. Oprah Winfrey for 'The Butler'
Oprah is a superstar. We still love to chant, "And you get a car! And you get a car! And you get a car!" whenever anyone mentions her name. A catchphrase she made famous was recently added to the dictionary. And she did a knockout job playing Gloria Gaines opposite of acting heavyweight Forrest Whitaker in The Butler. Is there anything this woman can't do?
3. The cast of 'Modern Family'
Although Sofia Vergara is up for an award, the rest of Modern Family's cast was unfortunately left out in the cold during this year's nominations. The show has helped to redefine the typical American family mold, and Ty Burrell, Julie Bowen, and Ed O'Neill are simply hilarious.
4. 'Fruitvale Station'
Fruitvale Station is based on the real-life shooting of Oscar Grant III by a police officer in 2008. The riveting film's themes surrounding racial tension were mirrored by the tragic Trayvon Martin case rocked our nation in 2013. Despite its relevance, Fruitvale Station was left out of the running. This would have been lead actor Michael B. Jordan's first Golden Globe nomination.
5. 'The Walking Dead'
Somehow the massive cult following that The Walking Dead has amassed over its last four seasons wasn't enough to land the outrageously popular show a spot on the Golden Globes' nominee list. The snub is enough to make us want to eat brains.
6. Woody Allen for 'Blue Jasmine'
Though the film was proclaimed as one of his best pieces of work, Woody Allen failed to receive a nomination for writing and directing Blue Jasmine. We'll always love him for iconic films like Manhattan and Annie Hall, and for pairing Penelope Cruz and Scarlett Johansson in Vicky Cristina Barcelona. But it would have been great to see this legend get some Golden Globe love for Jasmine.
7. Claire Danes for 'Homeland'
No one defined a generations teenage angst like Claire Danes as Angela Chase on My So-Called Life. Danes is all grown up as CIA officer Carrie Mathison on Homeland, but still manages to master "the cry face" that made her so endearing all those years ago. We would want to see her win just to see her cry some tears of joy.
8. James Gandolfini for 'Enough Said'
The late and great James Gandolfini didn't earn a nom for his showing his softer side in his second to last film, Enough Said. He will always hold a special place in our hearts as the beloved Tony Soprano, but he deserved the proper recognition for his range and depth as an actor.
9. 'The Secret Life of Walter Mitty'
Ben Stiller may have made an everlasting mark on our generation with There's Something About Mary, but his directorial debut in this year's The Secret Life of Walter Mitty didn't make a strong impression on the voters at the HFPA. Nevertheless, his whimsical story of a man finding his own way would have made our list.
10. 'Game of Thrones'
We might like watching the YouTube recap videos more than the show itself, but we still wanted to see the HBO hit contend for the gold on Sunday. If the voting for nominations were based on ratings, Game of Thrones would be crowned King.