Oscar Snubs 2014: This Year's Oscar Snubs Are Crazy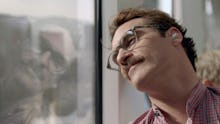 It's that time of year again. The announcements have been made, the congratulations are in order and the only thing left to do before the big day is lament those who did not earn a nomination for an Oscar this year.
Some have been virtual locks since their films debuted — Michael Fassbender, Matthew McConaughey, Cate Blanchett — and all who have been nominated this year deserve it. But not every great performance can be recognized; as we've come to see year after year, those deserving don't always make the cut. Here are the biggest snubs of 2014:
1. Tom Hanks, 'Captain Phillips'
Tom Hanks was all but guaranteed a nomination for his riveting portrayal of a captain defending his ship against pirates in Captain Phillips. Somehow, though, he couldn't even beat out Christian Bale's second nomination. It is doubly bad for Hanks, whose other notable performance this year — as Walt Disney — has been largely ignored by awards season. 
2. Emma Thompson, 'Saving Mr. Banks'
Never bet against Meryl Streep.
Considered to be the wildcard in this category, Streep's powerhouse performance in August: Osage County was enough to bump favorite Emma Thompson from the list. While Streep was always in the running, Thomson was considered a lock for her portrayal of the unlikable-yet-charming PL Travers. Unfortunately, the might of Streep was just too much, and the much-deserving Thompson was left behind. 
3. 'The Butler'
The Butler had everything going for it in September: a heart-warming true-life tale, powerhouse performances, topical relevance and surprise box office success. However, once awards season began, the film dropped out of sight with only supporting actress Oprah Winfrey gaining any buzz. While this snub may not be surprising, some had it listed as a possible longshot should the Academy choose to nominate 10 films for Best Picture.
4. Daniel Bruhl, 'Rush'
Best Supporting Actor was easily the most predictable race. However, the Academy chose to surprise by including Jonah Hill. His performance in The Wolf of Wall Street managed to edge out Bruhl, who was tipped to be the final by sources including the Hollywood Reporter and the Daily Beast, especially considering he was up for a Golden Globe only days ago.  
5. Joaquin Phoenix, 'Her'
Well, he didn't want the Oscar carrot, and it seems the Academy has obliged. Joaquin Phoenix was another snub of this year's Oscars for his beautiful performance in Her. Despite rave reviews and early buzz, Phoenix just didn't have enough to get past this year's favorites. Or perhaps it was the unorthodox story that was a turnoff for the increasingly older-skewing Academy. Either way, he'll have to wait another year for his fourth nomination.
6. Spike Jonze (Director), 'Her'
Much like Meryl Streep, Martin Scorsese is a perennial Oscar favorite. However, many critics believed The Wolf of Wall Street was just too excessive for the Academy. Spike Jonze's Her, meanwhile, has earned rave reviews — especially for its directing — so Jonze has generated a bit of buzz for himself. Too bad the Academy didn't agree.
7. Oprah Winfrey, 'The Butler'
The Butler started out as a hot prospect, but the buzz fizzled save for Winfrey who was expected to pick up a nom today. Well, the Academy was not so bowled over by her performance, and instead chose to honour Sally Hawkins' brilliant, understated performance in Blue Jasmine. 
8. 'Inside Llewyn Davis'
It wowed at Cannes, and earned praise from the HFPA, but the Academy shut out the indie darling Inside Llewyn Davis. The field was crowded this year, but this is Joel and Ethan Cohen we're talking about! Aside from having some of the best music in film this year, Oscar Isaac had a breakthrough performance, as did Justin Timberlake. It's hard to see a film like this be completely looked over, especially to make room for lesser films. (I'm looking at you The Wolf of Wall Street.)