9 Performances That Show How Incredible Live Music Can Really Be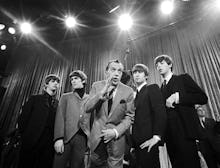 When Elvis performed for the first time on Ed Sullivan in 1955, he commanded a viewership of 60 million. When the Beatles played in 1964, he sent them a telegraph wishing them similar success. They got an audience of 78 million.
Last year, the Grammys pulled an audience of 29 million. On Sunday, the Grammys will bring some of the weirdest combinations of musical acts to American audiences in an attempt to "unleash" music. This year, Metallica will be performing with classical pianist Lang Lang. We'll laugh at them, tweet our outrage, sing our praises, and then probably forget them.
Here are nine performances better than anything we could hope for on Sunday — nine performances that prove just how incredible live music can be:
1. Itzahk Perlman, 'Mendelssohn Violin Concerto', 1958
It takes a lot to make classical music cool. Itzahk Perlman did it as a 13-year-old.
Elvis Presley may have ruled the 1950s both on television and off, but in 1958, a young violin prodigy named Itzahk Perlman appeared as a guest on the Ed Sullivan Show, and was catapulted to a level of superstardom unheard of for classical musicians.
Perlman was 13 at the time, and on the show as a part of a "guests from Israel" segment, but his virtuosity floored the Sunday-night audience. He appeared again in 1964, sharing the stage with the Rolling Stones. This is the rare classical music performance that would be accessible to everybody in America.
2. Bob Dylan & Joan Baez, "Blowin' in the Wind," 1963
In 1963, Bob Dylan took the stage at the Newport Folk Festival for the first time as a guest of Joan Baez. He performed, among others, a simple song called "Blowin' in the Wind," which Dylan wrote at age 21, in ten minutes.
Dylan's performance at Newport sealed his fame, and introduced the world to the Dylan we know best: a storyteller and musician. The song was covered widely and famously; it became an anthem for the anti-war movement, the civil rights movement. No song was more a product of the era in which it was written. This is the moment it was really born.
3. Joan Baez, "We Shall Overcome," 1965
Dylan had easily eclipsed her in fame by 1965, but Joan Baez was still very much in her prime. In the summer of 1965, she performed a full concert, recorded for BBC, where she played several of Dylan's songs.
But she also played "We Shall Overcome," seen in the above video with the studio audience singing along as she prompts them gently. It was a song she performed frequently throughout her career, linking folk revival, African American music, and progressive politics into one amazing performance.
4. Janis Joplin, "Tell Mama," 1970
Janis Joplin performed at the legendary Festival Express, a rollicking train tour across Canada taken by the likes of the Grateful Dead, The Band, and, of course, Janis Joplin herself.
She is as breathless and explosive as ever here on the Calgary stage, a white American blues-rock singer, and arguably the most influential female rocker of her era. "Well, tell mama / What you want / What you need … I'll make everything all right," she screamed, hair glowing and microphone stand trembling. Just a few months later she died from an overdose, but here, Joplin sounds crystal clear as she tears out a piece of her heart for us.
5. David Bowie, "Heroes," 1977
Baz Luhrmann's 2001 patchwork musical Moulin Rouge! breathed new, showtune-y life into the David Bowie song, "Heroes," with Ewan McGregor belting out the title lyrics "we could be heroes" to a reluctant Nicole Kidman. But the original Bowie was much cooler.
At the 1977 Top of the Pops, he sheds Ziggy Stardust, Major Tom, Aladdin Sane, all in favor of David Bowie. There is little on the stage besides spotlights and Bowie himself, in the plainest outfit he has ever worn, his gaze distant and alluring, singing "We could be us / Forever and ever / We could be heroes / Just for one day."
6. Whitney Houston, "You Give Good Love," 1985
It seems every Whitney Houston performance generates a flurry of critical (and amateur) buzz over whether it was the Best Performance Ever (her national anthem is, hands down, the best performance ever of the Star Spangled Banner).
On the Johnny Carson Show in 1985, 21-year-old Whitney Houston performed a single off her debut album, "You Give Good Love," a lesser-known song (although, is there really a "lesser-known" Whitney song?) that was written to capture the R&B market, but ended up overtaking pop as well. On Johnny Carson that night, the band was thin and out of synch, but Houston molds her voice, rising and falling effortlessly and perfectly to imperfect backing.
7. Prince, "Purple Rain," 1985
Prince and the Revolution take the stage at the 1985 American Music Awards to perform "Purple Rain," a song that has since gone platinum 13 times.
"Purple Rain" defies description, and so does Prince, especially in his blue-green sequined suit, his shock of curly black hair, his mole, his androgyny, his screaming, his singing, his dancing, his shredding of the guitar, his smiles that are half pained and half ecstatic, his final notes when the sound of the guitar and his voice converge in an indistinguishable swell.
8. Bikini Kill, "Girl Soldier," 1992
Bikini Kill was playing to a crowd in front of the White House, protesting the hearings surrounding the 1992 Supreme Court case Planned Parenthood vs. Casey. The video recalls the protest politics in the 1960s of other notables on this list (Dylan and Baez and their performances at the 1963 March on Washington).
Hanna speaks gently; her performance is anything but: "The war / At home / It's here / Today / This crowd / Your house / Always / Girl soldier," she declares. We could use a little more musical anger like hers.
9. Notorious B.I.G., "One More Chance," 1995
Ignore the blip in Steve Harvey's introduction, in which he calls Biggie "Notorious Big," rather than spelling out "B.I.G." But Harvey also calls him the "undisputed king of New York" (a title claimed and re-claimed by so many rappers since), credited with "helping to bring rap back to the east coast."
Here, Notorious B.I.G. raps frankly, with no distractions (except from his hypemen), eschewing bombasity for self-deprecation: "Garbage, I turn like doorknobs / Heart throb? Never! Black and ugly as ever," he raps. He commands the details of life and addresses the frivolity of living large with a spirit and clarity missing from so much of today's rap.