16 Behind-the-Scenes Celeb Instagrams That Perfectly Sum Up the Grammys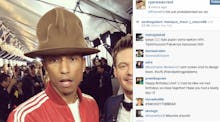 Although it felt like it lasted a year, the 2014 Grammys was a fun night filled with some of the most talented musicians in America. Whether it was a super sexy performance from Queen Bey to kick off the show with a band or Macklemore's performance featuring a mass wedding, the awards show did not disappoint. And before the show and behind the stage, the performers, dates, and hosts were snapping Instagrams of it all.
We've compiled some of the most candid Instagram moments from the show, from secret booze to questionable hats (oh, you know the one.)
1. Rita Ora gets VIP.
Singer Rita Ora proves even celebs get excited about VIP car-rides. 
2. Taylor Swift gets excited backstage.
And later in the evening the country songstress killed it with her head-banging performance of "All Too Well."
3. Macklemore and Kendrick Lamar get pumped via text.
Nothing like a confidence-boosting text from a friend to get Macklemore ready for the Grammys. Though, he might want to answer the 1,053 text messages he's been ignoring.
4. Dave Grohl gets goofy on the red carpet.
What could you expect from this grungey Foo Fighters frontman?
5. Pharrell wore the weirdest hat
It was the hat seen around the world and Ryan Seacrest got the best picture of it. 
6. Lorde snaps a moody mirror pic.
Leave it to this witchy singer to get ready in the shadows.
7. Madonna and her son David wear matching outfits.
Madonna's son David, who's 8-years-old, apparently picked out their matching black suit ensembles.
8. Keith Urban selfie-d.
Stars! They're just like us, taking car selfies with no shame!
9. Metallica takes their seats.
Looks like the heavy metal rockers showed up a bit early.
10. 30 Seconds to Mars loves Stevie Nicks
The band just had to take a picture with the great Stevie.
11. Ingrid Michaelson sends Sarah Bareilles an embarassing pic.
Because that's what fellow singer friends are for, sending you screen-snaps of yourself looking weird on national television!
12. Miguel and Nazani looked perfect.
Miguel and his girlfriend Nazani Mandi took some ridiculously stunning couple pics.
13. Chrissy Teigen gets (sort of) naked.
Model Chrissy Teigen, the wife of John Legend, got jokily scandalous for a few of her pre-Grammy Instagrams.
14. Ellen passes Carey Hart some whiskey.
No booze at the Grammys? Look for Ellen DeGeneres and she might have some with her, like she did for Pink's husband Carey Hart.
15. Kacey Musgraves revels in her Grammy win.
And it looks like she isn't the only one who's excited!
16. Macklemore said what we were all thinking.
Macklemore won the Grammy for Best Rap Album (among many others) and Kendrick Lamar went home empty handed (even though he was nominated seven times). Looks like even Macklemore knows his buddy was robbed.