A Terror Attack is "Very Likely" in Sochi — Chilling New Report Casts Shadow On Olympics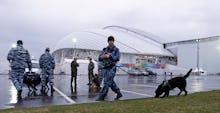 The news: Amidst growing fears of terror threats in Russia, British government officials have reported that a terrorist attack is "very likely to occur" in Sochi during the Winter Olympics.
Officials see Caucasus terrorist group Imarat Kavkaz as the primary threat for an attack, largely because the group has expressed an intention to target Sochi during the Olympics before. Law enforcement is searching for what it believes are three potential suicide bombers already in the city, including Ruzanna Ibragimova. 
The backstory: The threat of terrorist attacks is not a new development for the Winter Games in Sochi. Yes, any international event this size is a prime target for an attack (security is always a concern for Olympic venues), but Sochi in particular seems to have officials worried. The region is known to be unstable. Russia has seen recent terrorist attacks claim the lives of over 30 people in recent months, which has spiked the fears of Olympic organizers. 
Which is likely the reason why President Barack Obama has chosen to skip out on attending the Olympics. As Mark Kogan writes, "the decision by the White House to send zero high-ranking officials isn't a statement on LGBT rights, it's a confirmation of very real security concerns." That officials have deemed a terrorist attack "very likely" has all but confirmed the need for Obama to stay home. The risk of an attack in Sochi with the president present is too great. 
To quell international fears, Russia has created a so-called "Ring of Steel" around Sochi for the Olympics, tightening security and placing thousands of additional troops in the area. It's taking the treat of an attack very seriously. Pulling off a terrorist attack won't be easy, but that doesn't mean groups like IK won't try. The Olympics present an international stage on which to garner a lot of attention. As British officials warn, it seems "very likely" that an attack will be attempted. Whether or not it's successful is the only question left.