Apple Fans, the Rumors Are True: Expect a New Gadget This Year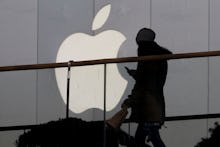 The news: On a Monday earnings call, Apple CEO Tim Cook confirmed that Apple is still on track to release a new product this year.
"Yes, absolutely. No change," he said in response to a question on whether the company would re-affirm its claim to a new product in 2014. And although Cook didn't say what that product could be, everyone thinks it's the much-vaunted but unconfirmed iWatch, a wearable watch-like computer that could debut by the end of the year.
As Business Insider writes, it could also be a new TV product. Apple already produces Apple TV, a net-capable device that streams content and mirrors Apple products to regular televisions, but it might make the jump into making its own television set or massive upgrade to the standard system.
The Wall Street Journal also reported recently that the tech giant is looking into upgrading its smartphone line with big-screen models in the range of five inches.
The background: Apple needs a new device, because iPhones can't continue to carry the giant forever. Though it recently beat quarterly result projections, it also reported weak iPhone sales and underwhelming revenue.
Images: TechCrunch
Wall Street analysts expected sales of 55 million iPhones, but the retailer was only able to move 51 million units. While iPad sales doubled in China during the holiday quarter and saw solid returns in Latin America and Russia, those 26 million iPads and an additional 4.8 million Macs took it to $42-44 billion in profits vs. expectations of $46.05 billion.
Apple has seen stiff competition in other areas as well, including customer service, Samsung and Google's rush to corner wearables, and a Samsung-Google patent partnership that will give the two companies a leg up over Apple.
As competitors flood the market with their own flashy gadgets, Apple's products have lost their cutting-edge aura. Stock is dropping as a result — a 7.5% decline on Tuesday by 11:55 a.m.
"What we have gotten over the last year or so is impressive products, but they are really enhancements of current products and not necessarily the next new thing," said BMO Private Bank chief investment officer Jack Ablin. "Apple investors want the next new thing — that's the catalyst that people are waiting for."
The bottom line: Whatever Apple has up its sleeve, it better be an ace — or the company will continue to lose ground to its rivals.