Check Out the 5 Pro-Marijuana Billboards Outside This Year's Super Bowl Stadium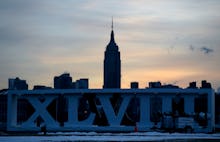 The news: This year's Super Bowl is going to have some interesting advertisements. No, I'm not talking about television commercials – I mean billboards. The Marijuana Policy Project has plans to put up five different pro-marijuana billboards around Met Life Stadium just in time for the Super Bowl. 
Source: USA Today
Of course, this Super Bowl is particularly appropriate for some marijuana propaganda. It's the Stoner Bowl, after all: the Denver Broncos and Seattle Seahawks represent the only two states in the union to have legalized recreational marijuana. Coincidence? Well, yea. But also, WEED BOWL! 
Source: USA Today
So the Marijuana Policy Project is taking advantage. As USA Today reports, "this year's Super Bowl between the Seattle Seahawks and Denver Broncos would be an opportune time to get their message out" – thus, these pro-marijuana billboards. The target? The National Football League's policy against marijuana, naturally. Because even though Washington and Colorado have legalized marijuana, NFL players are still prohibited from smoking, and face suspension if they do. 
Source: USA Today
So the MPP has started a petition on Change.org urging the league to update its draconian marijuana policy. The argument, according to the petition, is that the NFL doesn't have a policy against alcohol, so it shouldn't have one against marijuana, either. It's pretty damning, actually:
"The league would never punish a player simply for having a beer or cocktail, so why does it levy severe penalties against them for using a substance that is less toxic, less addictive, and less likely to contribute to violence?" 
In fact, the idea of marijuana as a "safer choice" is a theme of the billboards. Not just safer than alcohol, however – safer than football, too. It might not be as apt a comparison, but football is no doubt dangerous. When the NFL is paying its players to crash headfirst into each other, it seems a bit silly that it takes a stand against the dangers of pot.
Source: USA Today
This isn't the first time the MPP has posted billboards comparing marijuana to alcohol, but this will be the biggest stage yet. As thousands gather for the Super Bowl, they'll be driving past these five billboards surrounding Met Life Stadium.
It's the Stoner Bowl. Now it has pro-stoner ads, too.