Is the Apple Empire Starting to Crumble? World's Leading Tech Company Sees Stocks Falter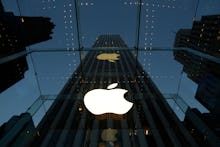 The news: Apple's latest quarterly earnings report, released on Monday, has left many investors worried for the company's future. The report, which covered a three-month period including the holiday season, showed that although Apple experienced record profit, the company is now primarily selling iPhones to repeat customers upgrading to the next generation, rather than reeling in new converts. Exacerbating concerns, Apple's revenue forecast for the current quarter fell short of investors' expectations by $3 billion.
Immediately following the release of the report, the tech behemoth's stock dropped by 8%, which according to Forbes, meant "vaporizing almost $40 billion in market value." In a conference call Monday, CEO Tim Cook allegedly assured "restless" investors not to worry: there will be no innovation deficit for Apple in 2014. Many are wondering whether this is a sign that Apple's reign is finally starting to crumble. Others speculate that this just a minor setback – a normal fluctuation even - as the company adjusts to a changing market.
Is Apple fatally flawed? Since Cook took over in Steve Jobs' wake, countless tech reporters have bemoaned Apple's startling lack of innovation. Back in August, economist Paul Krugman wrote on the "symmetry between Microsoft and Apple." Apple, he implied, may have reached its heyday. Its business model is fatally flawed and consumers will continue switching their loyalties to cheaper smartphones and tablets of similar quality. Are predictions of doom actually coming to fruition though?
In addition to yesterday's earnings report and subsequent drop in stock price, there's been a string of bad signs for Apple in recent weeks.
A survey measuring customer satisfaction among consumer electronics retailers found that Apple users aren't especially pleased with the Geniuses. Apple was outscored by Samsung, Sony, Microsoft, and Amazon and dropped in its relative ranking from last year. However, its ranking is still only one point below Microsoft and Samsung's.
Image credit: Forrester Research, The Wall Street Journal
Apple's share of the global smartphone market fell last year, (although it retained the largest profit share in the industry.) Analysts predict the Cupertino, California company will need to make up for the iPhone's struggles with an awesome new wearable device.
Google Glass, and now Samsung's Galaxy Glass, are starting to make waves as first-movers in the wearable devices sector. According to The Verge, Google and Samsung are taking financial risks in an effort to establish early market dominance. Rumors abound that Apple will release a smartwatch this year (called the iWatch, of course), but it hasn't announced any solid plans yet.
Image credit: AP 
Is this the beginning of the end of the Apple era? Given investors' and analysts' continued concerns, it looks like Apple might be suffering from more than a temporary setback. However, let's be honest, they just made record profits. As one BuzzFeed post satirically pointed out, pundits really like to point to Apple's inevitable doom. Signs of Apple flailing can easily be countered by its many successes.