North Korea Has Restarted Its Nuclear Reactor. This is A Big Deal.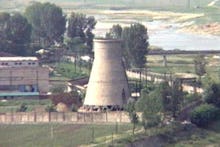 The news: North Korea has restarted its nuclear reactor. The Associated Press reports that United States intelligence officials have confirmed the North Korean government reactivated a nuclear reactor used for plutonium production.
In a written letter to the Senate Intelligence Committee, Director of National Intelligence James Clapper reported that the Nyongbyon nuclear complex has been reactivated and expanded as North Korea ramps up its nuclear facilities and capabilities. Clapper's testimony is in line with satellite imagery of the region that identified recent activity in the nuclear complex, as well as South Korean intelligence. 
This is news that shouldn't be taken lightly. Sure, there has been some bizarre news out of North Korea lately that makes it hard to decipher exactly what's real and what isn't, but seeing as this is confirmed by top intelligence officials in the U.S. and South Korea, it's pretty safe to say that North Korea has indeed rebooted its nuclear operations.
Clapper told the committee that "North Korea's nuclear weapons and missile programs pose a serious threat to the United States and to the security environment in East Asia." Early in 2013, North Korea backed away from a truce with the West and threatened to attack the U.S. with "lighter and smaller nukes" and that the U.S. "had better heed our warning."
So while Kim Jong-un didn't actually have his uncle fed to a pack of dogs, he and the country's leaders do seem dedicated to achieving an operational nuclear program. At a time when the U.S. seeks further denuclearization in North Korea, the country prepares for the opposite. While a functional nuclear program may be years off for North Korea, there is no doubt to their intention. What comes from that though, is what matters.