Sochi Winter Olympics 2014: Live Updates, News and Medal Count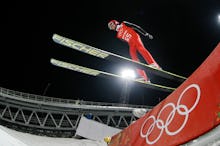 Set your DVRs, grab the hot cocoa and get ready to watch two and a half weeks of skiing, figure skating, hockey and luge (oh, and Jamaican bobsledding) — the Sochi 2014 Winter Olympics are finally here. Almost 3,000 athletes from 88 nations will send athletes to compete in events in 15 different sports for a chance to bring gold and glory back home. 
But before we get down to handing out medals, we all need to watch the long-awaited and super-exciting opening ceremonies (actually, not totally true: some of the events will, for various reasons, actually be starting before the ceremony). Obviously different countries will have different start times for the coverage, but in America NBC, which has exclusive coverage on the games, will be starting their coverage at 7:30 p.m. EST on Friday, Feb. 7. While it's unclear what Russia has in store or if they can even try to live up to Beijing's impressive ceremony in 2008, the Telegraph reported that 15 buildings, six trains and six bridges have been built inside stadium for the event. 
The multi-million dollar telecast will welcome all the athletes to the games and serve as the venue for the official lighting of the Olympic Torch. Rumors are circulating that Russian President Vladimir Putin's girlfriend and 2004 Olympic champion in rhythmic gymnastics Alina Kabaeva will be lighting the torch, which sounds a bit crazy, although Kabaeva is a highlight decorated Olympian who has been called a "legend" in her sport. 
Although NBC's Opening Ceremonies coverage will only officially be available on TV, the network will be live streaming the rest of the games and events on their website. Even though NBC has the broadcast rights, pretty much every other news outlet will be covering every minute of the game as well. However, it hasn't exactly been a smooth landing for a number of journalists who've arrived to the games early to find that a lot of Sochi was still not ready for the games. 
But besides event emcees Matt Lauer, Meredith Vieira and Bob Costas, a possible 1,000-member Russian childrens' choir, thousands of athletes and even more fans, who else will be in attendance at the ceremonies? Well, we know who won't be there: President Barack Obama, U.K. Prime Minister David Cameron and German Chancellor Angela Merkel, as well as a variety of other world leaders, have been put off by controversy in the buildup to the games, especially the passage of of a new law banning "gay propaganda." Instead, Putin will be joined by the likes of Chinese president Xi Jinping, Japanese Prime Minister Shinzo Abe, Turkish Prime Minister Recep Tayyip Erdo?an and UN Secretary-General Ban Ki-moon. Fairly displeased with the rejection, Thomas Bach, head of the International Olympic Committee, called out the boycotting foreign leaders for an "ostentatious gesture" that "costs nothing but makes international headlines."
With analysts calling this the "most dangerous Olympics they've ever seen" and multiple governments saying that a terrorist attack is "very likely," athletes are being warned not to wear USA logos outside Olympic venues, and a lot of people are on the look out for "black widows," women suicide bombers who carry out attacks after losing their insurgent husbands. A mid-January Quinnipiac poll indicates that 50% of Americans believe a terrorist attack is very or somewhat likely and 45% believe it's very or somewhat unlikely.
But that's not all of Sochi's problems — some of them involve the actual competitions as well. After sustain a wrist injury on a slopestyle practice run, snowboarding power house Shaun White has decided to pull out, which is an especially big hit considering their is the first time slopestyle has been featured as an Olympic event. But it's not just White being a big baby, there are serious problems with the slopestyle course. 
"It looks pretty sketchy, the rails are sticky," Roope Tonteri, the 2013 world champion in men's slopestyle, was quoted as saying. "I think they wanted to make big kickers, and it's not really good for riders, and it's not really safe. I just don't want to get injured. It's not a really fun course to ride." Sebastien Toutant of Canada told the Olympic News Service, "It's like jumping out of a building."
Stay tuned to PolicyMic for more live updates, news and medal counts for the 2014 Winter Games.