16 Surprising Facts You Didn't Know About Disney Movies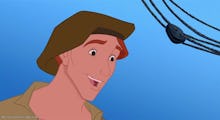 If one thing is true about the Internet, it's that it loves Disney films. And with good reason — from applauding Frozen's amazing progressive politics to reimagining stereotypical Disney couples as same sex couples, there's a lot of social good to be done by studying and reinterpreting the characters that raised us.
But Disney has always been full of Easter eggs — little details and facts that completely change how you see the films without having to reimagine them. There are enough little-known facts on the Internet about Disney's iconic animated films to keep you reliving your youth for years.
So here is the definitive list of the 16 greatest strange and surprising facts about Disney's animated films (and therefore, your childhood) that you never knew:
1. Jackie Chan stars in the Chinese 'Beauty and the Beast.'
Operatically-trained vocalist and martial arts actor extraordinaire Jackie Chan voiced and sang the dubbed Chinese version of Beauty and the Beast back in 1991, when Chan was still just a cult martial arts figure in the U.S. This, of course, happened before he made Rush Hours 1-3.
2. This is the real face behind 'The Little Mermaid.'
Alyssa Milano (Who's the Boss? and Charmed) inspired the face and personality of Ariel in The Little Mermaid; her personality as Samantha Micelli in Who's the Boss? was especially influential for Ariel's optimism and rebelliousness. However, the body and animation for Ariel were modeled after Sherri Stoner, a producer for Disney who later would also be an animation model for Belle.
3. Apple is a character in 'Cars.'
In Disney and Pixar's 2006 film, Cars, a white racing car features an Apple logo and the number "84," which was the year that Apple released its first computer. Steve Jobs was actually on the board of directors for Disney and was their largest single shareholder. And may we just say that an Apple and Disney fusion car would be awesome.
4. They're all one big movie.
In a few, almost unnoticeable corners of popular Disney films, characters from other Disney movies pop up: Poor Scar from The Lion King is a victim of trophy hunting in Hercules, and in The Little Mermaid, during Triton's arena scene, Donald Duck, Goofy and Mickey Mouse can be seen walking along the sea floor.
5. Billy Crystal Loves 'Monsters, Inc.' more than any of his other movies.
Billy Crystal's Mike Wazowski is the prolific actor's favorite role. Why? Crystal relates the most to the one-eyed green monster (it's also his biggest box office hit). According to Crystal, Mike is a "little guy in a big man's world" — Billy Crystal is only 5'7" — who never gives up. Crystal improvised scenes for the movies, ad-libbed his lines and, in an unorthodox move for voice-acting, requested to be in the same room as John Goodman (Sully) to increase the emotional interplay of the scenes.
6. 'Lilo and Stitch' has an Elvis Presley obsession.
Lilo and Stitch features more Elvis Presley songs than any of Presley's own films. This ends up being slightly ironic since pretty much all of Presley's films were negatively reviewed by critics, whereas Lilo and Stitch was nominated for an Academy Award in the Best Animated Feature Film category in 2002. 
7. 'The Rescuers' is clearly the dirtiest Disney film.
There are always rumors that family-friendly Disney films often include a dirty reference. While most of those amount to little more than rumors and wishful thinking, there was an actual, obviously intentional, very naughty moment in The Rescuers. During a quick moment, a photo of a nude woman can be seen reflected in a window, twice. Disney actually admitted to this one and had to recall 3.4 million videos; whoever snuck the bit in post-production has heretofore been dubbed the "Tyler Durden of Disney."
8. 'Toy Story' has a crazy reference to 'The Shining.'
Sid from Toy Story, the creepiest animated child ever, has some hallway carpet with the same design as one of the carpets in The Shining. Production designer Ralph Eggleston loves the Stanley Kubrick film and created a fantastic nod to a surreal horror classic — an apt reference, since Sid is a surreal villain in his own right. 
9. Joss Whedon Worked on 'Toy Story'
Joss Whedon, lovable writer, director and producer of Buffy The Vampire Slayer and The Avengers, was called in to help develop a troubled Toy Story script. Production on the script had been problematic from the start and would take over a year and a half to complete, but adding the talents of Whedon turned out to be a fantastic move. Whedon added the character of Rex, and thought up Buzz Lightyear's famous line, "You are a sad, strange little man."
10. There are an obscene number of spots in '101 Dalmatians.'
How many black spots are there in 101 Dalmatians? 6,469,952. I'd like to think a truly dedicated fan counted those, but considering that Pongo had 72 spots, Perdita had 68, and all the puppies had 32, it was probably just some basic math. 
11. There are 11 sassy horse sidekicks in the Disney universe.
Out of Disney's most popular animated films, there have been 11 horse sidekicks, each with its own personality, making horses far and away the most popular of the animal sidekicks. This is partially because they're the main mode of transportation available in medieval fairy tale land, but it's also because horses are, apparently, very easily characterized as sassy. However, without Maximus, Sitron, Bullseye, Pegasus, Khan, Angus, Buck, Phillipe, Achilles, Samson and Major; Tangled, Frozen, Toy Story, Hercules, Mulan, Brave, Home on the Range, Beauty and the Beast, The Hunchback of Notre Dame, Sleeping Beauty and Cinderella (whew) just wouldn't have been the same. 
12. Disney is apparently ageist.
In a study done by Brigham Young University (where they apparently watched a lot of movies), 22% of Disney villains are above the age of 55, with 42% of older characters overall being portrayed negatively; the study then found that Disney films impacted children's perceptions of the elderly by reinforcing stereotypes that they're grumpy and absent-minded.
This is the stereotype that Up completely destroyed.
13. Christian Bale actually had a role in 'Pocahontas.'
In Pocahontas, Thomas, a member of John Smith's team, was voiced by a young Christian Bale, who turned out to be pretty much the only thing that was successful about that movie. Bale never commented on his role in Pocahontas, but perhaps he liked it well-enough considering that he went on to play a similar character in another Pocahontas film a mere 10 years later: John Rolfe in Terence Malick's, The New World.
14. 'Lilo and Stitch' and 'Pulp Fiction' have a bizarre overlap.
The actor who voiced Cobra Bubbles in Lilo and Stitch (Ving Rhames) also played a gangster in Pulp Fiction, Marsellus Wallace (their earrings even match). Considering the amount of gangsters in Lilo and Stitch and the fact that Stitch is a pretty big lil' thug who, in the original script, was also the leader of a gang, this film is more indebted to Pulp Fiction than any children's film probably should be.
15. 'The Jungle Book' should have involved the Beatles.
The shaggy-haired vulture quartet in The Jungle Book (Buzzie, Flaps, Ziggy and Dizzy) was originally supposed to be voiced by The Beatles, who were the inspiration for the characters in the first place. Due to a scheduling conflict (read: Lennon didn't feel like doing it) The Beatles never lent their voices to the film, but Disney decided to copy their likeness anyway.
16. 'The Emperor's New Groove' has an obsession with Mickey Mouse's head.
In The Emperor's New Groove, there were at least three instances of hidden Mickey heads displayed for the discerning Disney viewer: one is hiding in the bushes, two are on Yzma's earrings and several are displayed as food on Kuzco's (only Disney would essentially name a character couscous) plates.
A collapsing bridge supposedly also spell out "DAMN" at one point, but we see no evidence of that.