One Sochi Hotel Has a Really Insane Luggage Policy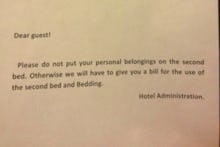 Just when we thought we'd seen the last of the #SochiProblems, the Olympic city has once again proved just how crazy it can be. 
Bruce Arthur, a sports columnist for Canada's National Post, tweeted a pic of this unusual letter he received from his hotel's management. 
"Dear guest!
Please do not put your personal belongings on the second bed. Otherwise we will have to give you a bill for the use of the second bed and Bedding.
Hotel Administration."
After posting the tweet, Arthur published a story on Canada.com expressing his disappointment with Sochi's hospitality, or lack thereof, so far. 
"So it's gonna be like that, huh? I am keeping a suitcase on one of the little single beds here, and Postmedia has, as far as we know, paid for the room. This seems fair for all involved. [...] Are you going to charge my colleague that had the … um … well … fresh semen on the second bed of her room when she arrived? Those sheets, sent for cleaning, have yet to be returned."
Arthur went on to list a number of other grievances that he and his fellow journalists have experienced, but maintained that he was less angry than amused or bewildered. 
"Again: I'm not complaining, really. I'm not whining, whatsoever. I'm laughing, just like almost all of us have laughed from the start at the little absurdities, which are not products of the Russian people but its system, its strangeness, its differences. Differences are always a wonderful or confounding or fascinating part of any Olympics, and part of what makes it so great to cover. Again: We are starting to really like parts of you, Sochi. Thank your people for that."
And he's exactly right. While everyone likes making fun of the weird eccentricities in Sochi, a lot of the issues journalists are experiencing really aren't that bad. Part of the reason the IOC host the Olympics in a different city and country every time is to expose the athletes and fans to new cultures and customs, and that's exactly what's happening in Sochi. 
That said, charging extra just for having your bag on an unused bed is a bit stranger. In the immortal words of Pepper Brooks, "It's a bold strategy Cotton, let's see if it pays off for 'em."