The 11 Best Romantic Tearjerkers for a Valentine's Day Ugly Cry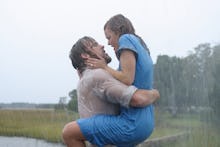 Whether you're celebrating Singles Awareness Day or have a romantic dinner date with your S.O., odds are you have some sort of plan for February 14. But if not, grab the Godiva and get ready for a good old-fashioned sob-fest. After all, it's not true love if it isn't star-crossed!
Let's have a look at the best tearjerkers through the decades, put these in your Valentine's weekend queue. 
1. 'Gone with the Wind' (1939)
David O. Selznick's 1939 adaptation of Margaret Mitchell's Reconstruction-era novel grossed nearly $200 million and won eight Academy Awards, but it's less its place in cinematic history and more Vivien Leigh's stubborn, spoiled Scarlett O'Hara and Rhett Butler's (played by Clark Gable) steely reservation that keep us coming back for more. Yes, it's four hours long, and yes, it's culturally dated, but frankly, we don't give a damn.  
2. 'Casablanca' (1942)
"Of all the gin joints in all the towns in the world," Humphrey Bogart's Rick Blaine growls, "she walks into mine." Ilsa Laszlo (Ingrid Bergman) and Blaine's love story plays out on a sweeping historical scale (against the backdrop of Nazism and the French Resistance), and asks big questions about courage and loyalty. That final fedora-ed scene is filled with legendary lines — but no matter how many times we see it, we'll always lose it at, "We'll always have Paris."   
3. 'An Affair to Remember' (1957)
Cary Grant and Deborah Kerr's 1957 romance is actually a remake — of 1939's Love Affair — but it's their missed chance atop the Empire State Building that's inspired a thousand others, from Sleepless in Seattle to Gossip Girl. Nickie sold the painting — and stole our hearts. 
4. 'Bonnie and Clyde' (1967)
Warren Beatty's Clyde Barrow is the original Bad Boy, and he and Faye Dunaway (as Bonnie Parker) were mixing (shady) business with pleasure long before Christian Bale and Amy Adams. Based on a true story, Bonnie and Clyde is remembered for its progressive on-screen portrayals of sex and violence — but it's the lovers' tied fate that leaves us wrecked. 
5. 'Love Story' (1970)
Starring Ryan O'Neal as a tight-laced, blue-blooded Harvard Law student who falls for Ali MacGraw's free-spirited co-ed, Love Story is both an adaptation of Romeo & Juliet and a predecessor of John Green's The Fault in Our Stars. It's your parents' A Walk to Remember — but with better clothes. 
6. 'The Way We Were' (1973)
Like An Affair to Remember, The Way We Were — starring Barbra Streisand and Robert Redford — has become a piece of the heartbreak pop-culture zeitgeist (a 1999 Sex and the City episode had Carrie quip at Big, "Your girl is lovely, Hubbell," the film's most famous line). Like Love Story, The Way We Were matches a hunky WASP (Redford's Hubbell Gardiner) to a feisty activist (Streisand's Katie Morosky), and — not just because the title's already given it away — we know they can't possibly work out.
7. 'Say Anything' (1989)
Okay, there's a lot about Cameron Crowe's directorial debut that's more John Hughes than Nicholas Sparks. Nonetheless: That scene (John Cusack, a boom box, Peter Gabriel) is one of the most romantic scenes of all time. 
8. 'Titanic' (1997)
James Cameron's epic of love found — and lost — at sea was, until 2010, the highest-grossing movie of all time (it was bested by Avatar, another Cameron production) and is tied for both the most Oscar nominations (14) and wins (11). The film's 2012 re-release (in 3-D!) proved it hasn't aged well, but our preteen selves won't ever let go. 
9. 'The Notebook' (2004)
Did you really think this wouldn't make the list? Ryan Gosling. On the dock. In the pouring rain. It's never over.  
10. 'Brokeback Mountain' (2005)
Based on a 1997 short story of same title by Annie Proulx, Ennis (Heath Ledger) and Jack's (Jake Gyllenhaal) impossible love is as sweeping and endless as the Wyoming plains they wander. Ang Lee's film is both restrained and unrelenting, and treats each of its tortured characters with sympathy and specificity (including Michelle Williams and Anne Hathaway as the lonely and defensive wives). Although set in 1963, there is a timelessness to Brokeback Mountain — for better or for worse. 
11. 'Blue Valentine' (2010)
For the realists among us: Derek Cianfrance's 2010 film — starring Ryan Gosling and Michelle Williams as a working-class couple who meet, fall in love, marry young and then fight through the struggle of working-class life — is so thoroughly defeating that to call it simply a "tearjerker" is to grossly belittle the sentiment. There is a potency to this kind of film — the late, great Roger Ebert called it an "exhaustion of hope" — entirely its own, and entirely too real.