11 Very Successful Business People Who Had a Tough Time in Their 20s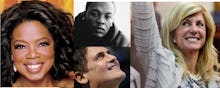 Your 20s are a difficult, defining decade of exploration, self-development and often, failures.
Today, it takes the average 20-something longer to graduate with an even more expensive tuition price tag. But the cost of not going to college is even higher. Hence, an extremely high percentage of graduates find themselves swimming in debt. In 2011, there were 5.9 million people ages 25 to 34 living with their parents, an increase from 4.7 million before the recession. 
Some of the Millennial generation's struggle is unique to this period, but it doesn't mean that this decade wasn't difficult for people growing up in past generations. In fact, many of the most successful people today had it hard when starting out.
Here's what 11 extremely successful people had to learn from failures and tough situations before age 30:
1. John Paul DeJoria was twice homeless and lived out of his car.
The co-founder of John Paul Mitchell Systems and Patron Spirits was actually homeless twice in his life. The first time, DeJoria was 22 with a 2-year-old. The second time, he slept in his car for two weeks while starting the now $900 million-a-year haircare business. Today, DeJoria is a billionaire on the Forbes 400 list.
DeJoria told Forbes that he advises aspiring entrepreneurs to, "Be prepared for a lot of rejection, people saying 'no' to the service or the product you want to sell. People saying, 'Oh, it's too difficult. I don't want to do it.' If you knock on 100 doors and they all say 'no,' on door 101, be just as enthusiastic."
2. Mark Cuban was fired and lived in a three bedroom apartment with five other guys.
The investor, founder of Micro-Solutions and Broadcast.com and owner of the Dallas Mavericks is now worth $2.3 billion, but Cuban wasn't always wealthy. In his bookHow to Win In the Sport of Business: If I Can Do It, You Can Do It, Cuban candidly reflects on all he had to do to make his billions.
Before he started Micro-solutions, Cuban was fired from a PC company for not telling anyone he was going to lunch to try to close a deal. At the time, he was living with five other guys in a three-bedroom apartment and didn't even have a bed. Being fired was a defining moment for Cuban, who wrote about it in Forbes:
"[My former boss] had a huge flaw: He never did the work. He never demonstrated the initiative to go out to sell. I had realized by that time that 'sales cures all.' That's a phrase I still use to this day. He was my mentor, but not in the way you'd expect. Even now I think back to things he did, and I do the opposite. And he made me superstitious about titles. I'm never listed as the CEO of my companies. There is no CEO. I am the president."
3. By the age of 20, Wendy Davis was divorced, a single mother and college dropout.
Texas State Senator Wendy Davis received national attention last June when she spoke for 13 hours to filibuster the passing of the bill that further restricted abortion rights for women in the state. She has served in city and state government seats for the past 13 years, and recently announced she will run for office in the upcoming gubernatorial election. 
Davis is a Harvard law grad, but in her early 20s, she was a divorced, young mother who had to drop out of the University of Texas Arlington after one semester because she couldn't afford it. In those early years, Davis worked as a waitress and a receptionist until she married her second husband and enrolled in community college.
In an article in the New York Times, Davis opened up about feeling insecure around those more educated than herself: "I had a lot of insecurities about not having done enough with myself. And I remember so vividly, when [my husband] would talk to peers and they would talk about, you know, their education or their travels, fine wines or foods, I just felt so left out of those conversations. And I had a little bit of a chip on my shoulder about it. And so I wanted to prove to myself, more than anything, that I could be one of those people, too. I could get an education like that, too." 
4. After Tyler Perry's early production was a complete flop, he was living on the street in Atlanta.
In 1998, Tyler Perry funneled all of his money into the making of his play I Know I've Been Changed. It was a failure and Perry ended up with nothing and living on the street. Instead of giving up, he kept showing the play at Atlanta churches and working jobs in construction and sales until he got his big break at the Atlanta House of Blues.
After directing and starring in countless box office hits, Forbes listed Perry as the highest paid man in entertainment in 2011, making $130 million that year alone. On his blog, Perry posted a video about how to achieve success, crediting his faith and God. "All you can do is plant your seed in the ground, water it everyday and believe. That is what allowed me to be in the position I am right now. I would not stop believing."
5. Steve Jobs dropped out of college and got fired from Apple — all by age 30.
After only six months at Reed College, the late Steve Jobs dropped out because he felt it was too expensive. He was living with his parents and started Apple at age 20 in his parents' garage. When he was 30, Jobs' board of directors fired him from his own company. During this time, Jobs started NeXT and Pixar and eventually returned to Apple after it bought NeXT.
In his inspiring 2005 commencement speech to Stanford graduates, Jobs said: "I'm pretty sure none of this would have happened if I hadn't been fired from Apple. It was awful tasting medicine, but I guess the patient needed it. Sometimes life hits you in the head with a brick. Don't lose faith. I'm convinced that the only thing that kept me going was that I loved what I did. You've got to find what you love. And that is as true for your work as it is for your lovers. Your work is going to fill a large part of your life, and the only way to be truly satisfied is to do what you believe is great work. And the only way to do great work is to love what you do. If you haven't found it yet, keep looking. Don't settle. As with all matters of the heart, you'll know when you find it. And, like any great relationship, it just gets better and better as the years roll on. So keep looking until you find it. Don't settle."
To date, Apple is ranked as the world's most valuable brand by Forbes. 
6. Oprah Winfrey was fired from her local news anchor position at 23.
Oprah Winfrey was fired from her 6 p.m. anchor position for local news station WJZ-Baltimore when she was 23 years old. Today, she is one of the richest women in the world, building her empire on The Oprah Winfrey Show for the last 25 years. 
In her 2013 commencement speech to Harvard graduates Oprah said:
"If you're constantly pushing yourself higher and higher, the law of averages predicts that you will at some point fall. And when you do, I want you to remember this: There is no such thing as failure. Failure is just life trying to move us in another direction. Now, when you're down there in the hole, it looks like failure. When that moment comes, it's okay to feel bad for a little while. Give yourself time to mourn what you think you may have lost. But then, here's the key: Learn from every mistake, because every experience, particularly your mistakes, are there to teach you and force you into being more who you are."
7. Suze Orman lost $50,000 she raised to open a restaurant in bad investments.
Financial guru Suze Orman is a well-known television personality, author and motivational speaker. The Suze Orman Show aired for ten years and was one of CNBC's most viewed shows. Marketwatch estimates her net worth to be more than $30 million. However, in her 20s, Orman only made $400 a week as a waitress and went bankrupt after she took bad investment advice and lost $50,000 she raised to start her own restaurant. To pay back everyone involved in that business deal, Orman taught herself enough to become a broker at Merrill Lynch.
She told the Daily Mail that her tough situtation motivated her: "You know, the truth is when your back is up against the wall, when you owe somebody something — sometimes you won't do something for yourself, but when you need to do something for somebody else to pay them back, you owe them, you lost what they gave you, that gives you the courage."
8. Andre 'Dr. Dre' Young dropped out of adult school at age 20.
As of last June, Dr. Dre was ranked number 63 in Forbes' 100 Most Powerful Celebrities list with an estimated net worth of $43 million. He is the co-founder of Death Row Records and Aftermath records, and started a headphones line, Beats By Dre in 2008. In 2012, HTC paid him and partners $300 million for a 51% stake in the company. At the end of January 2014, Young and Interscope partners launched Beats Music, an online music service expected to rival other market competitors such as Spotify and Pandora. 
Before Dr. Dre was a Grammy Award-winner, he was Andre Young, a teen living in Compton, Calif. Though he says his mother succeeded in keeping him out of trouble, Dr. Dre found little interest in his schoolwork. He was transferred between high school programs for underperformance and ended up dropping out of Chester Adult School.
Dr. Dre told Esquire that his mother was criticized for not choosing to abort her pregnancy with him as a young, single woman in 1965: "It was always embedded in my head as a child that I have to be a success, because those people cannot be right."
9. Before publishing her first Harry Potter book, J.K Rowling was an unemployed and broke single mother.
Joanne (J.K.) Rowling, author of the seven-book Harry Potter series, has sold a total of over 450 million copies worldwide. The film series adapted from her novels are the highest box office grossing in history, with $7.7 billion in revenue as of July 2013.
Rowling spent the majority of her late 20s writing her first book. Before she published Harry Potter and the Philosopher's Stone, Rowling was a newly divorced, single mother living in a small flat with very little money and no job. She told 2008 Harvard graduates that she felt like a total failure, but the feeling helped her succeed:
"Simply because failure meant a stripping away of the inessential. I stopped pretending to myself that I was anything other than what I was, and began to direct all my energy into finishing the only work that mattered to me. Had I really succeeded at anything else, I might never have found the determination to succeed in the one arena I believed I truly belonged. I was set free, because my greatest fear had been realised, and I was still alive, and I still had a daughter whom I adored, and I had an old typewriter and a big idea. And so rock bottom became the solid foundation on which I rebuilt my life."
10. Soichiro Honda's products were rejected by Toyota.
When Soichiro Honda died in 1991, he had succeeded in building one of the most valuable and respected companies in global history. Today, Forbes values Honda Motor's market cap at $72.4 billion, and ranks it the world's 20th most valuable brand. 
Honda left his small hometown in Japan at 15 to work as a mechanic in Tokyo. At 21, he submitted thousands of pistons to Toyota for motor production and all but three were accepted. He dropped out of technical school before taking his last exams, saying a degree was, "worth less than a movie ticket." He sold his engine parts company to Toyota during World War II, and spent the next year drinking away the profits.
By the end of World War II, Honda began developing bike models from military surplus engines that would later make his company famous. Discouraged by his own government's officials to begin engineering cars, Honda first found commercial success in the United States and opened American factories in the '70's, enabling him to retire a few years later. Honda has said of his bumpy road to success:, "Success represents the 1% of your work which results from the 99% that is called failure."
11. Walt Disney was fired and went bankrupt before his first successful film.
Before Walt Disney died in 1966, his studio had released 81 films, winning him 32 Academy Awards. Today, Walt Disney's company has a market cap of nearly $104 billion and 166,000 employees.
But before all of this commercial success, Disney was struggling to make it. He was fired from the Kansas City Star in his early 20s because "he lacked imagination and had no good ideas." Disney founded Laugh-O-Gram Studio in 1922 and it went bankrupt a year later. By the time Snow White was released, Disney was close to bankruptcy again.
Looking back on his failures, Disney once said, "All the adversity I've had in my life, all my troubles and obstacles have strengthened me … You may not realize it when it happens, but a kick in the teeth may be the best thing in the world for you."