7 Real-Life Celebrity Couples Better Than Any Tabloid Fantasy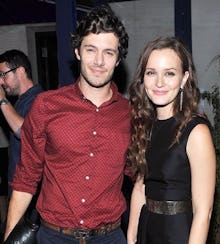 In the wake of the news that Blair Waldorf and Seth Cohen — I mean, Leighton Meester and Adam Brody — recently (and secretly) wed, it's high time to celebrate other famous pairings of teen idols who meshed and made our hearts and brains explode. Here are seven famous duos, popular with the teen set, who shacked up and started total love-fest media frenzies: 
1. Natalie Wood and Robert Wagner
Teen beauty Natalie Wood of Splendor in the Grass fame met heartthrob Robert Wagner on whom she had a huge crush growing up, when she was 18 and he was 26. The date was arranged by a studio and the pair married a year later in 1957. The couple divorced in 1962 and then reunited in 1972, staying together until Wood's mysterious and untimely death in 1981. In 2009, Wagner recounted, "The first time I remember really talking to her was at a fashion show in 1956. She was beautiful, but still gave no hint about the mad crush she had on me. I later found out she had signed with my agent simply because he was my agent. A month later, I invited Natalie to a premiere on what turned out to be her 18th birthday. At dinner, we both sensed things were different. I sent her flowers and the dates continued."
2. Freddie Prinze, Jr. and Sarah Michelle Gellar
He played the sensitive but popular guy in '90s classic She's All That. She was, of course, Buffy as well as the Upper East Side princess from hell in Cruel Intentions. They met during the shoot of I Know What You Did Last Summer — the heart gently weeps from nostalgia — in 1997, but did not start dating until 2000. They starred together as Fred and Daphne in Scooby-Doo and its sequel. They've remained married for 12 years, which, in Hollywood, is an eternity.
3. Victoria and David Beckham
Before she was a high-fashion designer, Victoria Beckham was, of course, Posh Spice of the all-important British girl group, the Spice Girls. She met the soccer superstar, known for his left foot, in 2007 despite her ignorance of who he was — "I didn't really know who he was. I was never into football," she has said — and were quickly deemed "Posh and Becks" by the British press. They married in 1999 and have since had four children.
4. Reese Witherspoon and Ryan Phillippe
After allegedly consuming seven Midori sours at her 21st birthday, Witherspoon reportedly turned to Phillippe and said, "I think you''re my birthday present." They, then, filmed the perversely amazing Cruel Intentions, and shortly after married in 1999. After seven years of marriage and two children together, the couple called it quits. Witherspoon went on to be one of the highest paid actresses in Hollywood, garnering an Oscar for her performance in Walk the Line. Phillippe, well, continued to be cute.
5. Heath Ledger and Michelle Williams
Before they were the pairing of every Brooklynite's dream and a bona fide Hollywood power couple, Ledger was the fresh-faced star of 1999's 10 Things I Hate About You and Williams played the sassy-but-ever-wise Jen Lindley on the no-need-for-introduction Dawson's Creek. Ledger went on to star in the revolutionary Brokeback Mountain (Williams played a small role in the movie) as well as The Dark Knight, while Williams wowed audiences in Blue Valentine and My Week With Marilyn. They were separated when Ledger tragically died in 2008, leaving behind their daughter Matilda.
6. Leighton Meester and Adam Brody
If you're a millennial girl with a heart, brain and T.V., then the reported marriage of Meester and Brody a.k.a. Blair from Gossip Girl and Seth Cohen from The O.C. on Tuesday is a clusterfuck in the best possible way. Brody, whose character arguably ushered the nerdy-but-very-cute hipster boy into the mainstream, married Meester's Blair, the Park Avenue queen B. They met on the little-seen movie The Oranges in 2011. Someone please write fan fiction about this.
7. Justin Timberlake and Britney Spears
This list would not be complete without the megawatt couple of Britney and Justin who met when they were just wee ones on The Mickey Mouse Club. She went on to solo success and he joined the boy band 'N Sync. Though they only dated for three years — from 1999 to 2002 — their matching outfits and "virginal" love remain etched in our hearts forever.