The Top Leaders in China and America LOVE 'House of Cards'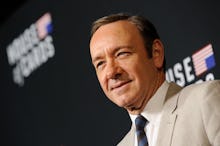 The Netflix series House of Cards tells the story of a corrupt, scheming, conniving and murderous U.S. congressman named Frank Underwood and his quest to dominate the government by any means necessary. It's riveting TV, to say the least, and everyone's watching it, including a few major Chinese and American politicians.
We know President Obama is a big House of Cards fan, as he publicly said he envies Underwood's maneuverability inside the fictional Netflix White House: "I wish things were that ruthlessly efficient," Obama reportedly joked to Reed Hastings, the Netflix CEO. "This [Underwood's] getting a lot of stuff done. "This makes sense, since Obama does live and work in the White House. And considering his reported predilection for dark cable dramas, House of Cards is a natural fit — even if his envy of a corrupt and possibly psychopathic murderer is a bit weird. 
What's a bit more interesting, however, is how quickly and aggressively the Netflix hit has caught on in China. On Sohu, the Chinese equivalent of Netflix, House of Cards has been far and away the most-streamed show since the debut of season 2 last Friday. Both seasons rank well above the next show, The Big Bang Theory. According to the Washington Post, nearly 24.5 million Chinese people watched the show's first season. What's more is that the largest proportion of those people are government-sector employees and residents of Beijing, China's capital. 
China's state-run Xinhua News Agency reported last week that "A large number of [their] country's senior leaders in government and enterprises and opinion leaders also highly recommend this show."
"Of course people in China are curious, because you could never see this kind of show about the Chinese government. It would never get past the censors," said one Beijing fan, who attended a panel held by Sohu on Tuesday to discuss the new series.
But is it just curiosity? Or are some Chinese politicians and government officials possibly taking a few tips and hints from Underwood and company? Apparently, Wang Qishan, one of the seven most powerful leaders in China as secretary of the Central Commission for Discipline Inspection (which isn't too far off from Underwood's portfolio in House of Cards), is a big fan of the show. Of course, it's possible Wang is just a Spacey fan, but as head of China's disciplinary committee, the overlap is just too sweet to go unnoticed. (Really classy, Internet.)
The second season of House of Cards includes several China-heavy story lines involving the Chinese government and a corrupt Chinese businessman. I wonder what Wang thinks of all that.