9 Things You Need to Know About the Protests Rocking Venezuela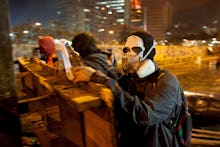 Venezuela's social unrest is sending seismic waves across the globe, shaking the international community. What began as a series of peaceful protests led by students on Youth Day has turned into a violent battle between anti-government protesters and government forces as well as pro-government vigilantes. Since the conflict's eruption last week, more blood has been shed, freedom of the press has been slashed and diplomats have been expelled. This is concerning to global leaders and human rights activists alike. As Ukraine erupts in flames, Venezuela is going black as media bans and potential expulsions threaten to cut the country off from international view. Amidst the controversy and confusion, here are the nine things you need to know about Venezuela right now: 
1. The death toll has risen to six.
Six people have been killed since the protests erupted last week — making them some of the deadliest in the country's history. Among those killed are students, the brother of a ruling leader and a young beauty queen. 
2. CNN reporters were threatened at gunpoint.
President Maduro's forces took CNN's cameras from reporters at gun-point after the network aired coverage of the Venezuelan protests and the brutal backlash by government forces. He now is threatening to expel CNN. 
3. Opposition Leader Leopoldo López remains controversial.
Former mayor Leopoldo López has become the charismatic face of the Venezuelan uprising, but controversy surrounds him. Some argue López's politics do not align with the goals of the protests, calling his leadership staunchly right-wing.
For example, leaked U.S. diplomatic cables reveal concern over his politics: 
"Former Chacao Mayor Leopoldo Lopez has become a divisive figure within the opposition, particularly since his very public split with UNT in September. He is often described as arrogant, vindictive, and power-hungry — but party officials also concede his enduring popularity, charisma, and talent as an organizer. PJ's Ponte said she had worked for Lopez when he was mayor and was impressed by his ability to organize his staff and effectively implement programs. Nevertheless, she said he summarily fired her when her husband opposed Lopez during an internal party conflict while he was still a member of PJ."
He has since been arrested by the Venezuelan government and awaits trial on a number of charges. International organizations, as well as the U.S. government, have denounced his arrest. 
4. Human rights abuses continue.
The excessive use of force, murder of protesters, and detention practices of Venezuela's police forces have global human rights activists very concerned. 
Rupert Colville, the spokesman for the Office of the UN High Commissioner for Human Rights (OHCHR) talked with reporters in Geneva earlier this week.
"In addition, some protestors have reportedly been detained and may be prosecuted on terrorism charges. It has also been reported that some protesters, including minors, are being denied contact with family or lawyers," said Colville.
Pictures on social media of young students handcuffed and forced to kneel at a police station have sparked outrage. 
Via: B Maury
Additionally, the regional representative of the High Commissioner for Human Rights in South America has called on the Venezuelan Government to ensure that the rights to freedom of peaceful assembly. President Maduro has banned public protest and enacted a nighttime curfew. 
5. Venezuela's economy continues to decline.
Venezuela's insanely high inflation rate has driven up the cost of basic resources — making items like flour, gasoline and toilet paper difficult, if not impossible, to get. At the same time, jobs and pay-rates have been steadily decreasing. These economic issues remain some of the loudest grievances of the protests along with calls for a more democratic government and an end to human rights abuses. 
6. 3 U.S. diplomats have been expelled.
President Maduro ordered on Monday that three American Embassy officials leave the country. He accused them of recruiting students to participate in the protests. The demand means increasingly strained relations for Venezuela and the U.S. In this photo, Kelly Keiderling of the U.S. Embassy speaks at a press conference after her and two other diplomats were expelled by Maduro. 
7. There is a media blackout.
The Venezuelan government banned access to Twitter images and continues to vilify anti-government protesters on state-owned television. Formerly dissenting media outlets have gone quiet — prompting fear of what citizens call a complete "media blackout."  
8. Students call for peace.
Student protesters are urging citizens to march in peaceful protest in the wake of the country's escalating violence. Before pro-government vigilantes reportedly started firing at students, the anti-government protests had been largely peaceful. 
9. President Maduro calls for peace.
President Maduro has recently called for peace dialogue with protesters in a country-wide speech.  
"We have to be builders of peace," he stated.
As places to protest disappear, citizens meanwhile continue to call for his resignation.