1.7 Million People Think Yesterday's Women's Figure Skating Event Was a Scam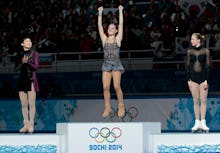 The news: On Thursday, Russia's Adelina Sotnikova edged out Korean favorite and 2010 Olympic gold medalist Yuna Kim to win Russia's first Olympic gold medal in ladies' singles figure skating. The 17-year-old Russian put on a spectacular performance with excellent technicality, but some critics are saying her routine shouldn't have earned her the gold over Kim. 
"I was shocked," Kurt Browning, a four-time figure skating world champion, told the New York Times. "What, suddenly, she just became a better skater overnight? I don't know what happened. I'm still trying to figure it out."
Read More: Was There a Conspiracy at Yesterday's Women's Skating Event? The Scandal Has Gone Global
Though the two skaters performed strong routines, some have said that Kim out-skated Sotnikova, but because the new scoring system relies so heavily on subjective numerical analysis, it's possible for skater A to score higher than skater B even if skater B put on a more fluid performance, as long as skater A's movements were more precise and technically perfect. This is probably what happened on Thursday.
But that doesn't mean everyone is happy about it.
"It's not fair to skaters who work so hard," said American skater Ashley Wagner. "People need to be held accountable. They need to get rid of the anonymity if they're going to create a fan base. People don't want to see a sport where someone falls down and goes above someone who doesn't."
And it seems Wagner may be right. Shortly after the results were announced and Sotnikova was awarded gold, someone started a petition on Change.org to "Open Investigation in Judging Decisions of Women's Figure Skating and Demand Rejudgement at the Sochi Olympics." As of 11:00 a.m. ET, they've collected 1,702,162 signatures out of the 3 million needed.
The background: Figure skating is a mysterious sport. For the average fan watching, the fact that an anonymous panel awards seemingly arbitrary points makes a lot of the outcomes suspicious. We've already seen figure skating-scoring controversy earlier in these Winter Olympics when Wagner called "bullshit" on her lower-than-expected scores. However there seemed to be a perfectly reasonable explanation for what happened there. But could the scoring get so suspicious that there's an actual conspiracy going on?
If the Change.org petition is any indication, it would seem that at least some people think something's afoot. Additionally, the past instances of questionable outcomes, as well as the 2002 Salt Lake Olympics judging scandal, point to the idea that stricter judging oversight might be necessary. 
But of course, the IOC was quick to dismiss even the slightest whiff of a problem.
"I think you're getting a little ahead of yourself," said IOC spokesman Mark Adams. "I think first off we have to see if there's an official complaint, because the people concerned I'd assume would make a complaint and it would go to the federation. I'm not aware there's been such a complaint and if there was they'd got through the federation. I don't think it's even happened yet. If it does that will be the first step to go through if there isn't a credible complaint we wouldn't take it any further."
And Adams actually does have a solid point. Even if a bunch of fans complain about the outcome, until someone actually involved with the competitions makes a formal complaint or petition, there's little the IOC can or perhaps even should do in this situation. That said, it's possible some competitors are scared to voice their opinions, fearing a bad reputation within the figure skating community, but then we're just caught in a terrible catch-22.
The takeaway: While some people seem pretty outraged by these outcomes, most competitors are taking the judges' scores.
"The scores are given by the judges, so I am not in the right position to comment on it," Kim said. "There's nothing that will change with my words. The biggest thing was I felt relieved because it was over."
But regardless of how the athletes feel, as long as fans are unable to understand the convoluted and opaque scoring system, the sport will remain a once-every-four-years event and eventually support could progressively wane.