How Bad is the Crackdown in Venezuela? The Government Just Sent Paratroopers In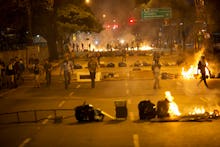 After a week of violent and deadly clashes between protesters and the riot police, things are finally looking up in Ukraine, with the government formally announcing a peace deal with the opposition on Friday morning. But on the other side of the world, the chaos in Venezuela is taking a turn for the worse.
The opposition movement against President Nicolas Maduro escalated last week when a peaceful youth protest was brutally put down by the state police, which shot and killed three protesters. Since then, the demonstrations have become bigger and more forceful, and the Venezuelan government has responded in kind.
Due to the government's repressive media policies, it's been hard to get much information out of Venezuela (the Western media's lack of coverage is not helping either). But reports now indicate that the Maduro administration is taking extreme measures to quell the opposition; paramilitary gangs have been patrolling both public squares and residential neighborhoods, firing live rounds to dispel crowds.
Image: AP
Despite heavy international criticism, Maduro has deflected blame by claiming that the protesters have partnered with Colombian gangs to incite chaos in the country. Officials are currently detaining opposition leader Leopoldo Lopez, who peacefully surrendered himself on Tuesday and now face charges of murder.
"I am handing myself over to an unfair justice system," Lopez announced before his arrest (pictured below). "May my imprisonment serve to wake the people up."
Image: AP
The country also experienced a wave of shock and anger when Genesis Carmona, a 22-year-old model who participated in the Miss Venezuela pageant, was shot in the head by a pro-government gunman and died.
Warning: graphic image below.
Finding a diplomatic solution seems unlikely at this point. Maduro has accused the U.S. of financing and inciting the protest; President Barack Obama has pointedly responded that instead of "making up false accusations," the government should address the "legitimate grievances of the Venezuelan government." 
Maduro has expelled three U.S. diplomats from the country under charges of conspiracy, and has also threatened to kick out CNN and other international news outlets for portraying him negatively. "Enough war propaganda, I won't accept war propaganda against Venezuela. If they don't rectify themselves, out of Venezuela, CNN, out," he said on national television.