This Is How This Week's Pop Hits Stack Up Against the Same Week In 2004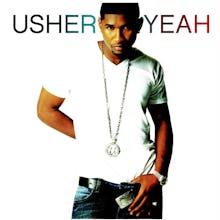 Throughout history, people have claimed that music was better when they were younger, but we finally decided to put it to a scientific (who are we kidding) test. So we went back to the charts exactly 10 years ago this week and pitted 2004's best against our own. What we found was pretty interesting.
Pop music was conclusively better back in the day, but a lot of old rock was pretty trashy. Here's the ultimate breakdown of how this week faced up to the same week 10 years ago:
1. Usher's "Yeah!" Usher, vs. Katy Perry's "Dark Horse"
This matchup in top-performing pop song is just unfair from the get-go: It's Ali to Liston, the Seahawks to the Broncos, Space Jam to Space Jam II. Perry's uncomfortable genre-mash featuring a rapper (Juicy J) who would have been old in 2004, doesn't stand a chance against one of the biggest, most euphoric club anthems ever. Let's move on already.
2. Norah Jones's "Feels Like Home" vs. Eric Church's "The Outsiders"
Jones' 2002 album Come Away With Me won about a billion Grammys and birthed the single that would be played in department stores and wine and cheese parties forever more ("Don't Know Why"). She rode the wave straight through her next effort, Feels Like Home, which was almost offensive in its inoffensiveness.
Church, the wily country singer-songwriter, seems to be on the edge of a breakout year with the powerful songwriting and summery riffs of The Outsiders. He probably wins this first round, but it's one of the few gets 2014 can muster.
3. Kanye West's "Slow Jamz" vs. Pharrell Williams' "Happy"
It's really, really difficult not to love Pharrell and the boundless (24 hour-long, in fact) good vibes on this single written for a Steve Carell children's movie. But "Slow Jamz" was Kanye's first No. 1 — and in paying homage to the classic soul legends of the past, it became a classic in its own right. It's quite possible that the whole soul revival in hip-hop wouldn't have happened without Kanye in 2004.
Plus, that was a legendary verse from Twista.
4. Outkast's "Hey Ya" vs. Pharrell's "Happy"
Sorry Pharrell. These are both infectious dance tracks, but "Hey Ya" is so much edgier, sillier, catchier and more original. Outkast may only have won the top spot in digital tracks, but they definitely win at history.
Plus, silly hats < Polaroid pictures.
5. 3 Doors Down's "Here Without You" vs. Katy Perry's "Roar"
The category of top-selling "Adult Song" was really never going to be cool. And it's really, really difficult to put two sap-fests like these against each other and say one is necessarily better (although maybe their sappiness is the reason adults like them so much).
"Roar" eeks out a win here, though, mostly because of Dr. Luke's production. Sorry, 3 Doors Down. Write a sad song about it.
6. Incubus' "Megalomaniac" vs. Bastille's "Pompeii"
As far as rock goes, we're all happy that Incubus isn't a thing anymore, right? To be fair, "Megalomaniac" is a product of a time when our president's dunce levels were peaking — these guys had a right to be angry.
But give me Bastille's epic synth pop over Incubus' thrashy alt-metal any day. Another win in rock for 2014. But the 2004 pop continues to dominate with ...
7. Britney Spears & Madonna's "Me Against the Music" vs. Avicii's "Wake Me Up"
Avicii has a well-honed knack for writing wonderfully stupid hooks that are inherently worthless but still get stuck in your head for weeks on end.
But Madonna and Britney are both dance legends and their collaboration amounts to little more than sloppy, suggestive pouting that essentially translates their infamous MTV kiss into musical form. Honestly, this one is kind of a toss up.
But clearly (random angry rock aside), February 2004 had higher highs than anything February 2014 has to offer.