7 First Nation Rappers Crushing Stereotypes of Indigenous People Through Music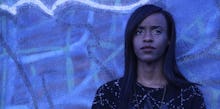 You've likely heard Angel Haze, the insanely smooth, mixed-race indigenous rapper, spitting lyrics from your speakers. The uber-talented 22-year-old MC might be one of the best known Native names in hip hop today (she even speaks Tsalagi, a Cherokee dialect), but she's part of a larger, thriving First Nations underground music scene, in which men and women are using their rhymes to tell the stories of lives often unseen and voices often unheard.
Hip-hop remains a vehicle for many people of color to share their experiences and incite change, and there's a certain strand of political and social commentary running through Native hip-hop in particular. This might be because our communities can be hyper-aware of the ways in which we interact with government. Or because we're faced with so many questions regarding legitimacy — like who's "native enough," and who receives federal recognition. Or because we're grappling with issues of cultural survival as our language and traditions die out. Or maybe it's just because, as independent musicians, there is more room to voice controversial opinions and experiment with sounds.
With so many musicians rumbling deep underground about environmental policies, poverty, life on the reservation, elders, legacy and generally hustlin', it's a wonder we haven't heard their noise all around the globe. 
1. Frank Waln
Sicangu Lakota and member of the hip-hop group Nake Nula Waun, Frank Waln is one of the most outspoken young rappers in the indigenous music scene today. His song "Oil 4 Blood" takes a political stance on the Keystone XL pipeline controversy, which embroiled indigenous groups in a political battle when it became clear the TransCanada oil pipeline would need to run under Native lands.
Waln raps over a trippy beat:
My ancestors studied numbers and astrology / Lakota philosophy / Keep them haters off of me / Keystone XL you smell like an atrocity / To my home and my ancestors I am loyal / Build that pipeline and I'm burning down your oil
As a rapper, Waln is in-your-face and tells it exactly as he sees it. And he's not alone in his opinions: The Keystone XL pipeline continues to upset plains Indian tribes to this day. 
2. Supaman
Supaman, also known as Christian Takes the Gun Parrish, told NPR in 2011 that the stories voiced through Compton's gangsta rap weren't far off from life on the reservation: "Hip-hop was talking about the ghetto life, poverty, crime, drugs, alcohol, teen pregnancy; all that crazy stuff that happens in the ghetto is similar to the reservation life. We can relate to that."
Since that 2011 interview, Supaman has continued to make music that speaks to the indigenous experience. Just last week he released "Prayer Loop Song" onto YouTube, mixing regalia, flute music, beat boxing and rap to create an ingenious and danceable bit of socially-conscious hip-hop. 
3. Tall Paul
Ojibwe rapper Tall Paul doesn't want to be known solely as a Native rapper — and he is definitely more than that — but without a doubt he cranks out beats and lyrics that speak to indigenous communities around the globe.
His track "Prayers in a Song" addresses issues of assimilation, the continued eroding of indigenous cultures and the loss of traditional languages:
I wasn't furnished / With language and traditional ways of my peeps / Yeah, I used to feel like I wasn't truly indigenous / Now I say miigwech gichi-manidoo / For showing me my true roots, definitely Native
...
Take responsibility for being educated / My people and customs originating from early phases / Of history, it's deeper than fry bead / And contest pow-wows, tears shed in the sweat lodge
The recognition of his roots and the call for education in traditional and historical ways is a political act, as indigenous groups all around the world have been systemically targeted, marginalized and silenced. The chorus of "Prayers in a Song" is the perfect act of defiance: It's a prayer in his traditional tongue.
4. JB the First Lady
Canadian aboriginal rapper and beat boxer, JB the First Lady, calls her music "political but positive." Her sound is easily mainstream and speaks overwhelmingly to a woman's experience, regardless of racial and cultural lines. But that doesn't mean she isn't also out there protesting and singing traditional songs.
JB has been deeply involved in Idle No More — a political and social resistance to end colonization and the loss of reservation lands — by performing spoken word pieces and calling people to action. 
5. City Natives
This four person group from New Brunswick dropped their undeniably catchy debut last June. Their sound is reminiscent of Los Angeles' grittier urban hip-hop, easily mainstream and full of the ego and heavy bass lines that make a great rap album. They may not be calling out oil companies or land developers, but they're drawing attention to modern Native experiences in the city; it's not all about fancy dress and tribal drums, and most indigenous people are living the urban hustle. 
6. Reddnation
Reddnation disbanded in 2013, but for years they were creating Native-focused music and using hip-hop to call people to political action. Their song "Take a Stand" specifically sheds light on environmental concerns many have regarding the potential sale and development of Native lands, and the continuation of environmentally-unsound practices that affect their communities' cultural survival.
MC Madjikal opens the track with a straightforward call to action:
Time to rise up, take a stand / To protect the children, protect the land / Protect those waters and everything in it / Because another government is changing minute by minute
7. Miss Christie Lee/Crunch
An aboriginal woman and rapper, Miss Christie Lee became known in underground hip-hop circles for her track, "Experience," whose lyrics are almost entirely in her Musqueam dialect. As Lee explains to the Vancouver Courier, what makes the song so powerful is the fact the Musqueam language was nearly in the grave before elders worked to revitalize its use among youth. It's only through young adults like Lee and their pursuit of linguistic and cultural studies, that Native tongues are still being heard in areas of North America today.