Listen to Angel Haze's Brilliant New Song "A Tribe Called Red"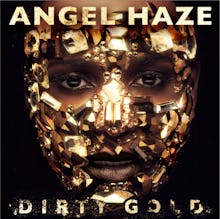 In addition to cover art for her long-awaited album, Angel Haze just released a lyric video for her newest song "A Tribe Called Red." Like her other pieces, while the song's beat pulls you in, it's the lyrics that take center stage. 
The song is a vow to fans that Haze will keep her music real despite her impending fame tin 2014. She also snuck in some Azealia Banks references, reminiscent of their on-going Twitter battle, for good measure. 
Hip-hop is notoriously unkind to women, much less female artists themselves. Look around and you'll see the likes of Rihanna and Nicki Minaj, both of whom are really more pop than hip-hop. Their audiences are pop fans — not those who listen to Kendrick and J.Cole (nor the ones who complained when J.Cole's first album seriously dissed the underground hip-hop community).  
When it comes to real women hip-hop artists, they are few and far between. When you do find them, often their raps focus on sex and love rather than more traditional hip-hop lyrics, which expose social wrong-doings, institutional pain, and human suffering.
Angel Haze is changing all that. Her first major hit in the underground community, "Coming Out My Closet," detailed sexual abuse from a viewpoint rarely heard: a victim's. From that, she was featured in massive publications like Vogue, Jezebel, and ELLE, and has, to an extent, catapulted into the mainstream. Unlike many of her former underground peers who have now signed with major labels, Haze keeps her beats and words honest, relatable, and authentic.
That's why her upcoming 2014 album, with a release date set for March 3, is bound to be big. If Haze isn't already on your music radar, put her on it now. Her album is about to change the rap game — for everyone. Kendrick Lamar will even be taking notes.