The Definitive Guide to What's Actually Going on in Venezuela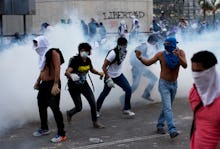 Perhaps even more disturbing than the death, destruction and violence that has ensnared Venezuela is the sweeping prevalence of conflicting reports and false information preventing people from making concrete observations on the country's situation. What began as peaceful protests led by the country's youth against President Nicolás Maduro took a turn for the worst on February 12, as reports of three student deaths made global news. Since then, 10 others have been killed as anti-government and pro-government forces clash and violence surges. Thousands of protesters are calling for President Nicolás Maduro's resignation as the leader calls for peace talks. Here are the key facts you need to know about what's happening in Venezuela:
1. The common thread of the protests? Hardship.
Reminiscent of the 'bread, freedom and social justice' chant that filled Ciaro's streets in 2010 and 2011, the major grievances of government protesters revolve around access to basic goods and government reform. Venezuela's astoundingly high inflation rate has made items like flour, gasoline and toilet paper difficult, if not impossible, to get.
Photo Credit: Washington Post
Unemployment has been rising and salaries have been steadily decreasing. Economic hardship remains one of the key grievances of the protesters along with calls for a more democratic government, a decrease in violent crime and an end to human rights violations.
2. Thirteen people have died.
Videos surfaced two weeks ago of alleged pro-government vigilantes opening fire on young protesters after a relatively peaceful anti-government protest. Since then, violence between protesters, riot police and pro-government forces along with a spike in violent crime have led to 13 deaths, including young students, the brother of a ruling leader and a former beauty queen.
The latest victim is former world champion boxer Antonio Cermeño, who reportedly was kidnapped and murdered as violent crime spikes.
3. Controversy still surrounds government opposition.
Leopoldo López Mendoza, leader of the anti-government movement Voluntad Popular — "Popular Will" — and former mayor has come under fire his political motives. Leaked U.S. cables accuse López of holding staunch right-wing views, while others cite his history with corruption charges.
After the government issued a warrant for his arrest, alleging murder, terrorism and conspiracy against him, López went into hiding for a few days. He then turned himself in after giving a dramatic speech.
"The options I had were leave the country, and I will never leave Venezuela," he said, according to CNN. "The other option was to remain in hiding, but that option could've left doubt among some, including some who are here, and we don't have anything to hide."
4. New faces emerge in opposition leadership.
Since López's arrest, former presidential candidate Henrique Capriles Radonsks has become the face of the opposition forces. He has called for demonstrators to keep demanding change from Venezuela's government.
"With López in jail, Capriles is retaking the opposition leadership," Carlos Romero, a Caracas-based political analyst, told USA Today. "He is very rational and understood that the protests went too far and the majority of Venezuelans want peace."
Leopoldo López's wife, Lilian Tintori de López, has also become a public figure in the protests.
Tintori called for a new demonstration today, asking women to march silently in non-violent protest, wearing white and carrying white flowers for each of their children. Tintori said that the protests will be "for the future of our children and grandchildren."
5. U.S.-Venezuelan relations are up in the air.
In response to Venezuela's expulsion of three U.S. diplomats, the U.S. is expelling three Venezuelan diplomats. President Maduro accused the three U.S. diplomats of conspiring against his government and ordered their departure from the country on February 17.
Jen Psaki, spokesperson for the United States Department of State, said on Tuesday that Venezuelan envoys First Secretary Ignacio Luis Cajal Avalos, First Secretary Victor Manuel Pisani Azpurua and Second Secretary Marcos Jose Garcia Figueredo had 48 hours to leave the U.S.
6. Fake images obscure reportage.
Powerful images of the violence engulfing Venezuela have made headlines across the globe. But on social media, people have been posting fake or altered images — confusing stories of what's going on in the country. Many allege that the photos were to obscure reportage, undermine either pro-government or anti-government forces or simply gain attention.
7. Peace talks faced resistance.
A national meeting called by President Maduro to facilitate peace dialogue convened on Tuesday without opposition leader Henrique Capriles Radonski, who refused to attend. He argues that attending the meeting would appear as an endorsement or complacency with government violence.
"I am not going to make Nicolás Maduro look good ... That is what they want, that I go there as if the country was absolutely normal," he said.
As anti-government demonstrators barricaded streets and tried to maintain their momentum, supporters also rallied behind Maduro on Monday.
8. Diplomatic relations, sanctions and oil
Senate Foreign Relations Chairman Bob Menendez is calling on the U.S. government to consider "targeted sanctions against those in the Maduro government who are using violence, whether that's visa revocations or targeted freezing of monetary accounts here in the United States," he told CNN. "Those are strong messages that are not interventionist but are about human rights and democracy."
Rep. Joe Garcia (D-Fla.), said that the government should reconsider the deportation order for Venezuelan diplomats and grant more asylum requests. In considering further action, the U.S. will have to weigh its decisions carefully, as Venezuela is Latin America's largest oil exporter.
9. Violence and unrest have not stopped.
The international community is hoping that violence in Venezuela has peaked and is set to decline. Even Pope Francis is praying for the violence to end. But reports of police brutality and street violence continue.
A disturbing video surfaced on Monday of what appears to be a female National Guard member repeatedly striking a female protester with her helmet.
"Valencia is completely paralyzed," resident Carmen Teresa Peña told CNN iReport. "We need to be heard, and there is no Venezuelan media that will broadcast what is happening."
Protesters continue to take to the streets, blocking major roadways and lighting fiery barricades.