Frozen's Elsa Exposes What's Wrong With Disney Princesses in This Fantastic Song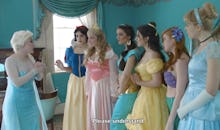 In a fantastic new video, a real-life Princess Elsa from 2013's Frozen — heralded by many as one of Disney's most progressive movies yet — shows various Disney princesses what they've missed out on in the pursuit of "Prince Charming." Watch it below:
In the original version of the film, Elsa is decidedly a feminist hero. In the song, "For the First Time in Forever," the powerful princess proclaims that her freedom and ability to be herself without compromise are more important to her than anything ("Yes I'm alone / but I'm alone and free!").
This theme is drawn upon and spoofed in the parody (created by AVbyte) with the real-life Elsa singing, "Why keep on assuming / Men can save the day / I can be the hero / And do it my own way."
Looking around at the room of iconic Disney women, Elsa hilariously points out that Snow White was "slipped a roofie," Jasmine "fell for a cheat," Cinderella "got really lucky for having tiny feet," Belle has "Stockholm syndrome" and Ariel "had special talents and gave them up like that."
The truth hurts, ladies.
Recently, the debate over feminism and Disney princesses has yielded some thought-provoking and ultimately badass results. From this year's Super Bowl commercial that showed girls tossing aside princess toys in favor of STEM-promoting playthings, to one artist's imagining of feminist icons as Disney princesses, people are beginning to reevaluate the way women are portrayed in pop culture. On the darker side of Disney princess parodies, see Dina Goldstein's disturbing reimagining of the characters in real-life situations and SNL's amazing "Real Housewives of Disney" sketch.
While we're not saying that we need to get rid of all princesses, videos like this should help inspire parents and, hopefully, Disney execs to continue to promote fairy tales featuring strong, intelligent women.