Assad Wants You to Think Syria Looks Like This Beach Town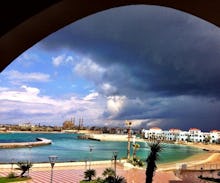 All appears well in the pro-Assad town of Latakia. You'd never guess that it was just 45 minutes away from the now crumbled-into-ruin village of Salma, the front line of battle where pro-government and opposition forces warred. 
Huffington Post reporter Joshua Hersh posted this image on Instagram yesterday. The image was captioned, "Yes, this is still Syria. No, I am not on vacation ..."
While 140,000 Syrians have died in the country's civil war and thousands of refugees face starvation and homelessness, the wealthy port town largely supportive of Assad's regime seems untouched. 
Less than two weeks ago, thousands of citizens in Latakia demonstrated in support of Assad, waving Syrian flags, dancing and cheering. 
The city has not been immune to deadly conflict. Deadly gun battles broke out the government escalated its crackdown on anti-government protestors in 2011. In an attempt to stop armed opposition forces from advancing into Latakia terrority, Assad also launched a series of air strikes in August of 2013, allegeldly killing civilians in the process. Since then, both pro-government, neutral and anti-government people have been killed. 
But compare images to Latakia, especially its port areas where naval bases stand, to other parts of Syria. 
Hersh's image of the "Alawite, pro-Assad heartland" stands an eerie testament to the opposite conditions of the area kept in stronghold by Assad, and well, most everywhere else in the ravaged country.