Hollywood Has the Power to Change the World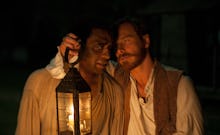 With the 86th Annual Academy Awards tonight, speculation is rampant about who will nab this year's coveted awards. Will a commercially successful and thoroughly entertaining movie like Gravity come out the top winner, or will it be socially conscious films like 12 Years a Slave and Dallas Buyers Club? And do commercially successful and socially conscious still have to be mutually exclusive? 
Years ago, a group of film directors (Sydney Pollack among them) discussed the concept of creative freedom versus social responsibility with an audience of media psychologists. In a Los Angeles Times article the filmmakers acknowledged that the media has an impact on society, but that constantly examining social issues isn't conducive to the creative process.
"I do have a responsibility," said Pollack, who was Oscar nominated for They Shoot Horses, Don't They? and Tootsie, "but I would make the most boring films in the world if I woke up every morning worrying about my social responsibility."
Looking at Pollack's quote years later, it's worth unpacking whether his sentiment is even true. While it's understandable that no artist wants to be saddled with the responsibility of having a moral project simply for the sake of doing good — not to mention the difficulties socially-conscious filmmakers must face in making socially-relevant films in a money-focused industry — the truth is that social relevance and commercial success can, and often do, coexist.
Looking back through Hollywood's history, there is no shortage of examples of films that have been major box office hits, while successfully raising public awareness. Movies like Guess Who's Coming to Dinner, Norma Rae and this year's Oscar contender 12 Years a Slave, are prime examples. 
Guess Who's Coming to Dinner was a box-office hit in 1967 throughout the U.S., including in southern states where it was assumed at the time that few white film goers would buy tickets to see a film about interracial love. Interracial marriage was still illegal in many parts of the U.S. before the film was released, yet the success of the film challenged old assumptions.
This year's example, 12 Years a Slave has already grossed $128 million in international and domestic sales, while only having a $20 million production budget. It's made money for its investors while telling a compelling, critically-acclaimed, socially-relevant story about this country's history of slavery. Having already won the Golden Globe and the BAFTA for Best Picture, many are now predicting it will win an Oscar in the same category; an Oscar win would further increase its commercial longevity as well as the reach of its message.
In addition, the film (and the book) is being brought into our education system where it will be distributed to high schools across the United States, thanks to an initiative headed by Montel Williams and Stand Up 4 Public Schools. Williams put the important social Hollywood message well when he said, "When Hollywood is at its best, the power of the movies can be harnessed into a powerful educational tool."
Looking to other examples of successful films that made a huge impact, Erin Brockovich made millions at the box office, while exposing the unethical dealings of a California power company accused of polluting a city's water supply. The Killing Fields and Hotel Rwanda introduced audiences around the world to Pol Pot's murderous regime in Cambodia, and the horrors of the Rwandan Genocide.
This year's Oscar contender, Dallas Buyers Club (which has exceeded $25 million in domestic gross revenues so far, with only a paltry $5 million budget), continues a conversation that Philadelphia started back in 1993.
Love him or hate him, another socially aware filmmaker is Michael Moore who showed the movie industry that you can educate the public about huge global issues and still be financially viable. Mainstream audiences are thirsty for real issues, and movie producers are starting to understand that it's in their best interest to quench that thirst.
Film has the power to bring attention to inequality, human rights violations, poverty and discrimination. Movies are often a person's first exposure to a specific issue, galvanizing and shaping public opinion, which in turn, affects public support; instigating slow but very real societal changes.
In 2004, Jeff Skoll, the first president of auction giant eBay, started Participant Media, producing a string of feature films and documentaries that not only entertain but as Participant's Mission statement says, "tell compelling, entertaining stories that also create awareness of the real issues that shape our lives.
Participant helped bring film's like Al Gore's An Inconvenient Truth, (the tenth highest grossing documentary film to date in the United States) into being. Not only does the company produce films but it works with organizations and finds ways to get audiences involved. It has working relationships with 112 non-profits that collectively have the potential of reaching over 60 million people. This is the perfect example of the potential power of social change through film.
Even marketing (which often eats away at a huge chunk of the film's production budget) can be consciously done differently as we saw this year. When filmmaker Casey Neistat was recently by 20th Century Fox to create a promotional video for The Secret Life of Walter Mitty, Neistat asked if he could spend the $25,000-budget to fly out to the Philippines and help out with flood relief efforts. Fox agreed and Neistat made a video about that journey. The video received enormous traction on social media, and cynics were quick to grudgingly mumble that Fox still got their marketing money's worth.  
And if total global spending on product placement in movies in 2013 was a whopping $1.8 billion, isn't it time for studios to selectively choose the brands who are associated with better values (ecologically, socially, politically) and – once again – let activists and consumer advocates handle a big bulk of their marketing for them through social media? As quick as today's consumers are to point out unethical practices, they're just as quick to give props to those who deserve them. 
A movie industry with a social conscience doesn't have to equate to "boring" and "unprofitable" (words that instill fear in every movie studio mogul's heart). On the contrary, a change is already in the air. While endless Transformers sequels still seem to be churned out for international audiences, people are starting to get tired of the predictable. Film directors Steven Speilberg and George Lucas have already warned of a shift.
"There's eventually going to be an implosion – or a big meltdown," Spielberg said. "There's going to be an implosion where three or four or maybe even a half-dozen mega budget movies are going to go crashing into the ground, and that's going to change the paradigm."
Perhaps, now is the ideal time for the big Hollywood machinery to understand that, even if the almighty dollar is still their priority, past successes prove that social relevance and commercial viability can not only coexist, but produce inspiring results. The path we are on is one of exciting change.