John Travolta Flubbing Idina Menzel's Name Was the Oscars' Most Bizarre Viral Moment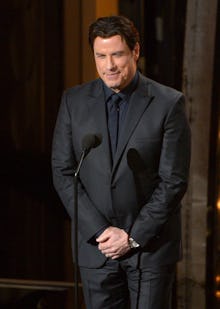 There were historic wins at the Oscars Sunday night — beautiful speeches, record-breaking selfies — but the moment that seemed to be really capture the internet's spirit and heart was John Travolta's complete butchering of Idina Menzel's name. 
ICYMI, Travolta strode gallantly onto the stage to introduce Menzel for her "Let It Go" performance and rather than reading her name phonetically, he shot from the hip and went with "Adele Dazim."
Eric Stonestreet, who plays Cam on Modern Family, captured the moment in all its vine-able glory: 
Watch that vine closely. Watch it thrice. There are so many things happening; the hair, the cadence, the accent he puts on to say "Adele Dazim." It's a perfect storm of weirdness. 
Naturally, Twitter is having a wonderful time with the flub. "Adele Dazim" has been trending hard for hours, the requisite "Adele Dazim" Twitter handle is going strong, and the Twitterverse's most hilarious minds are at work crafting the perfect joke about the moment.
They'll be up all night, ladies and gentlemen.