In One Perfect Quote, Kentucky's Attorney General Sums Up Why He Supports Gay Marriage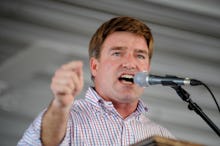 It takes a lot for someone to turn down his own client. And it's especially hard if that client turns out to be your state governor.
On Tuesday, Kentucky Attorney General Jack Conway announced that he will not appeal the district court's decision to strike down a part of the state's same-sex marriage ban — forcing Governor Steven Beshear to scramble to find an outside lawyer to represent his interests in opposition to the decision.
When asked why he decided to go against the grain of the Kentucky political establishment, Conway summed up his position in a few simple words: "I would be defending discrimination."
Conway is now the seventh state attorney general in the country — all Democrats — to refuse to defend laws that are against marriage equality. "The United States Constitution is designed to protect everyone's rights, both the majority and the minority groups," he added.
Kentucky Governor Beshear, a fellow Democrat, said that he was merely doing his due diligence by reflecting the wishes of his constituents. The ban on same-sex marriage was approved by 75% of Kentucky voters in 2004.
"I understand and respect the deep and strong emotions and sincere beliefs of Kentuckians on both sides of this issue, but all Kentuckians deserve an orderly process that will bring certainty and finality to this important matter," he said.
Kentucky is just one of the few battleground states where bans on same-sex marriage are being challenged. On Feb. 12, U.S. District Judge John G. Heyburn II ruled that Kentucky's refusal to recognize the married status of out-of-state gay couples was unconstitutional; another lawsuit that more directly addresses the state's same-sex marriage ban is still pending.
Over the past four months, six states — including Kentucky — have struck down discriminatory laws against same-sex marriage. This map from Mother Jones illustrates the growing national movement to promote marriage equality (Kentucky's court ruling is not on the map yet):
Image Credit: Mother Jones
Conway's announcement also follows former Miss Kentucky winner Djuan Keila Trent's much-publicized coming out statement last month. The beauty queen wrote on her blog that her decision was inspired by the district court ruling. 
"What has prompted my writing today has been my questioning people's constant assumption that a) I am hetero and b) I concur with their views and opinion," wrote Trent. "Sometimes, I forget to put the 'QUEER' stamp on my forehead on my way out the door in the mornings."