Why Young Creatives Should Really Consider Moving to a Smaller City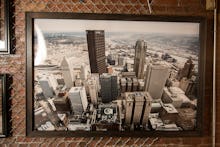 It's true. City lights have always had some kind of hold on young people. It's exciting. It's assuring. It gives us hope that anything's possible.
The problem? Living in the city has always been expensive, but maybe now more than ever before. And if you're in a creative industry where it takes who-knows-how-long to make it, living in a big city with a small budget gets quite tough.
In recent years, young creatives seem to be fed up with the competitive, constantly churning culture associated with big cities. They're also tired of rent being so damn high. As a result, droves of young creatives are migrating to cities like Austin, Detroit and St. Louis. These places offer opportunities that a bigger city simply can't.
Here are the reasons why young creatives should consider starting out in a smaller city.
1. It enables people to find their creative space.
When you'e just playing catch up with everyone, it can be difficult to figure out who you are as a creative person. This happens often in a bigger city where there are so many other talented people and you're constantly trying to catch up to them.
Carley Tanchon, 27, had an itch to make her music dream become a reality and moved to Boston, Nashville, Sydney and then New York City. But she was only doing it "for the purpose of music," she said, and after she released two albums, Tanchon moved back to her hometown in Cleveland, Ohio.
"The competition in the city is like no other," Tanchon said. "You can be inspired a whole lot, but because creativity is a personal thing, it can also make you second guess yourself."
Basically, when you're around too many talented people, you can end up agreeing with everyone else instead of truly finding your own voice.
2. There's less at stake (financially).
To find your own voice, you need to take big risks. Unfortunately, risks can be quite expensive in a bigger city. In a smaller city, failures aren't as costly. 
Startup couple Kristin and Mike DeKay, both 28, told the Atlantic that they launched their own design firm in 2010 "partly because they weren't worried about losing their $125,000 home" and because "It wasn't hard to live frugally." They might not have taken the same risk in a bigger, more expensive city.
Their big risk paid off and the company has now merged with another firm in the area.
3. It's easier to stand out.
A big reason why people enter the creative field is because they want to create and make a difference. Unfortunately, when you're in a bigger city, it can be hard to make a difference because you're just not getting the gigs.
Before Brandon Bales moved to NYC, he was just a kid with a camera who found his niche photographing the local club scene in Oklahoma City.
"It started out real small and exclusive and increased to 400 people a night," he said. "It got out of control and was quite entertaining," much like a Webster Hall scene in NYC.
When one of Bales' videos got 200 hits in one day because "some sort of Russian Facebook linked to it," Bales knew he was building a name for himself. While working on independent music projects and collaborating with talent from all over the world via social media, Bales got a job as lead editor at a local ABC affiliate in Oklahoma — all by the age of 27.
4. You won't necessarily have to work a million side jobs.
There's simply way too many creatives crammed into big cities and the competition is fierce. Big cities are also expensive so you can't really focus on your work — you have to hustle to make money on the side. Young people end up working odd jobs and have no time for their real passion.
Furthermore, you end up having to work longer hours to live in an expensive bigger city (more time away from your creative projects). On the other hand, even if you have to work a side job in a smaller city, you won't have to work as much since everything's cheaper. In fact, a new report published by WalletHub claims that cities with the highest average annual income (adjusted for cost of living) are Charlotte, NC, Atlanta, Ga., Austin, Texas, Houston, Texas and Colorado Springs, Colo.
The chart above ranks cities where it's easiest to get a job based on available positions per capita.
5. There's a greater community spirit.
In smaller cities, a strong network of people oftentimes exist because it's you guys against the rest of the world. You need this support when first starting out, but bigger cities don't always provide this.
"The environment in New York is more cutthroat — people want you to fail, and want you to burn," Jimmy Farah, co-founder of Rustic Grain in St Louis, told PolicyMic's Elizabeth Nicholas.
"In St. Louis, the culture and environment is full of honest people, who are politely honest. It's a big enough town for there to be enough connections and partners, but it's small enough to be haughty."
Adam Seely, who started FTV Productions in Oklahoma City, agrees with Farah about the tight community in smaller cities:
"Mid size cities generally are a better market because there is less competition between artists and musicians and more of a feeling of camaraderie," Seely told PolicyMic. "When you aren't in a giant built-in market, you are all on the same team to help each other out, to make your city grow and prosper."
6. There are lots of perks.
Think about it this way: Detroit is recruiting writers by giving them houses. Many smaller cities are acting like startups themselves, hoping to recruit talent from larger places by offering incentives like this.
Since there isn't a shortage of space in smaller cities, local governments are happy to have young talent scoop up abandoned spaces and lots. This is what's needed for young creatives starting out — and something that they can't get in a place like New York or Silicon Valley.
7. It satisfies socially-minded entrepreneurs.
Image: Rebel Nell
One of the most important things to young people — especially creatives — is doing meaningful work and contributing to the world.
This may be difficult to accomplish in a big city where you have bills to pay and ample competition. When you're in a smaller community, it's easier to significantly contribute to the scene and city.
Rebel Nell is a jewelry startup that launched a business to help rebuild Detroit while empowering disadvantaged women.
In 2013, Amy Peterson and Diana Russell set out to help women in need, such as those living in shelters, by hiring them, paying them a living wage and empowering them, Russell told PolicyMic. The co-founders were able to do this through taking ruins in Detroit — discarded graffiti found everywhere — and turning them into jewelry. 
Their story means more in a city like Detroit, where the area and the people living in it benefit greatly from social entrepreneurs.