These Photos Capture New York Artists Taking a Bold Stand Against Gentrification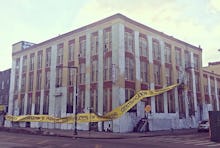 Long Island City residents woke up Sunday to a happy surprise: Protesters had covered the whitewashed former graffiti mecca, 5Pointz, in a massive banner that read "Gentrification in Progress."
Developers had whitewashed the historic street art haven in November in preparation for the building's destruction. In its place, they planned a residential tower that will almost certainly no longer be host to some of the finest street art in the city. The story has become one of the clearest examples of gentrification in New York, where the outer boroughs have recently been seeing rapid development. The city approved tearing down this iconic space to give way to a high rise. Where once there was a living, breathing work of art, now there will be condos.
That's why the form of protest was so brilliant. Artists gilf! and BAMN (By Any Means Necessary) did it in the dead of night — just like the developers who painted over years of art overnight in November. But they made art rather than simply tearing down — theirs was a productive act. The massive banner is a playful twist on both protest signs and construction zone tape — an artful statement of the obvious but unsaid truth.
The destruction of 5Pointz is a devastating loss to the city. As PolicyMic's Anthony O'Reilly said, it is obvious proof that planners care more about profits than art (never mind that tourism from 5Pointz was, indeed, making money — though not as much as the luxury condos will). More than a place to live, though, New York is a cultural capital. And this is sorely misguided.
In other cities, artists have taken to street art to protest varying forms of gentrification-changing neighborhoods. In San Francisco, protesters blocked Google commuter buses, a representation of the city's changing population. Last year in Berlin, protesters stalled construction crews from demolishing the East Side Gallery, a remaining portion of the Berlin Wall that had been turned into an outdoor art gallery dedicated to peace. One protester carried a sign asking what we're all wondering: "Does culture no longer have any value?"
We're not so sure.
Image Credit: Wikipedia