Banksy Takes a Bold Stand on Syria While the Media Turns a Blind Eye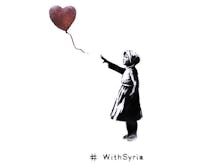 Banksy, one of the world's most well-known graffiti artists, has commanded the world's attention on Syria in a powerful and heart-wrenching piece of artwork. Banksy wants to be clear, however, that the beautiful piece released on the third anniversary of the country's bloody civil war is not about him or the art — it is about standing #WithSyria.
Banksy recreated his classic Balloon Girl image to feature a young Syrian girl, who is pictured reaching desperately for an elusive heart-shaped balloon. The heart is noticeably more realistic and darker than the previous version. The image is making headlines as the international campaign #WithSyria catches fire online.
In a statement on his website, Banksy recasts the narrative of Syria's civil war as a struggle for democracy that began with an artistic statement demanding human rights, not that much different from his own. He then describes the country's rapid descent from art to torture, protest and mass violence.
Image credit: BBC News 
"On the 6th March 2011 in the Syrian town of Daraa, 15 children were arrested and tortured for painting anti-authoritarian graffiti. The protests that followed their detention led to an outbreak of violence across the country that would see a domestic uprising transform into a civil war displacing 9.3 million people from their homes," Banksy's website reads.
An unfathomable 100,000 people have been killed in Syria's conflict. Millions of refugees are without proper clothing, food, water or shelter.
Many of the starving refugees are children, and newborns in hospitals are freezing to death. Other young children were targeted by snipers when their families tried to flee the destitute Yarmouk refugee camp.
It is perhaps for this reason, in addition to the classic symbolism of hope and innocence that a child represents, that Banksy chose a young Syrian girl as the subject.
Image credit: AP
NBC News writer Bill Neely wrote, "In Syria, the angels have been murdered."
More than 11,000 children have died as a result of Syria's civil war. The UN reports that 5.5 million children have been affected directly by violence or indirectly by starvation, rape, mutilation, displacement or lack of access to health services, among other factors.
Banksy stands with these children and all Syrians affected by the crisis. His artwork coincides with an international campaign led by Oxfam and several other humanitarian organizations around the world to help Syria.
Supporters will be holding candlelight vigils in solidarity with the millions of Syrians who have come under attack. At the same time, humanitarian organizations will continue to push for donations to provide critical resources to thousands of Syrians at risk of death.
"After 3 years of failure to adequately respond by world leaders, we will not give up on Syria," said Oxfam on its website.
Image credit: Lyse Doucet, BBC
Banksy's image, Syrian girl with a balloon, will be projected onto several international landmarks on Thursday, including the Eiffel Tower and Nelson's Column.
In the mean time, Banksy's image is going viral, and with it, the call to stand #WithSyria.