Anti-Semites Vandalized a Swedish School, and the Community Responded Perfectly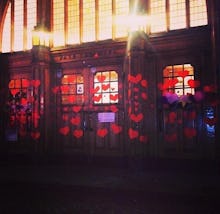 More places should be detonated by love bombs. Responding to anti-Semitic graffiti, a group of teenagers decided to stand up for their Jewish peers, fighting back at the hatred with a wonderful display of support. 
Students showed up last week to Vasa Real High School to see a slew of anti-Semitic slurs including "Jewish swine" and "disgusting Jews" alongside swastikas and other Nazi symbols. The school, which has several Jewish students as well as Hebrew and Judaism classes, was shaken after the hateful attack. 
But the very next day, students and teachers were greeted with a different scene. The school, previously marked by hatred, was now covered in love. Paper hearts and positive notes covered the entryway of the school. 
Image Credit: Twitter
Image Credit: Twitter
Among the cut out hearts and messages were signs reading, "Love overcomes hate" and "Love comes in all shapes and colors." 
Students of Sweden''s Liberal Party organized the "love bombing." 
"We wanted the pupils at the school to be greeted by love in the morning instead of all the hate they saw," young Liberal Bawar Ismail said in an interview with the Local.
He described how quickly the effort caught on.  
"People passing by joined in, and everyone wrote messages for the students," the student continued. 
Image Credit: Twitter
This is not the first show of anti-Semitism or public display of hatred around Europe. A mosque in Stockholm was defaced in a similar attack in January. And a 2013 survey reported that many felt anti-Semitism is on the rise as extreme right-wing parties win government control. Similar to what happened at Vasal Real, community members responded to the defacement of the Stockholm mosque by covering it in flowers. 
Photos of the love bombing spread on social media with the hashtag #1000xFler, which means 1,000 times more.