100,000 Australians Protested Against the Government Yesterday — 12 Photos Explain Why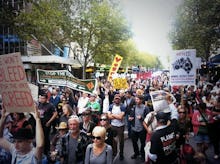 Over the weekend, around 100,000 people across Australia took to the streets to express their frustration against Prime Minister Tony Abbott and his government, with 10,000 marching in Sydney through the rain.
Since Abbott's Liberal-National coalition came into power in September, the PM has been heavily criticized for his record on the environment, women's rights, asylum seekers, LGBT rights, education, tax policy and more. The discontent bubbled over in the last few weeks as a viral social media campaign organized protests throughout Australia.
Called #marchinmarch, the peaceful demonstrations overtook St. Patrick's Day celebrations and showed how people really felt about Abbott. The protests were not nearly as violent as the ones we've seen in Ukraine, Venezuela, Thailand or Turkey, but sent a strong political message nonetheless.
So far, the government has refused to engage. When asked how he felt about the protesters, Abbott simply said, "My understanding is that the only big rally in Sydney is the St Patrick's Day parade. I wish all the St Patrick's Day revellers well, and if their parade is rained on, there's always some Guinness available somewhere around the city."
There has been no word yet on whether the protesters will organize a similar rally again. In the meantime, check out some brilliant signs from the past weekend:
1.
2.
3.
4.
5.
6.
7.
8.
9.
10.
11.
12.