Watch as Obama Calls Ellen's Selfie a "Pretty Cheap Stunt" on Her Show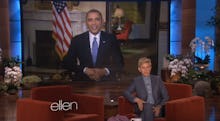 When Ellen DeGeneres tweeted the selfie-heard-around-the-world, she not only broke the record for most retweets, but also beat the previous titleholder by nearly 3 million. That titleholder just happened to be President Barack Obama — and he's not too happy about it.
On Thursday President Obama appeared on Ellen as part of his recent media blitz to drive up health care enrollment, which now reportedly stands at 5 million. But as soon as they got through introductions, DeGeneres jumped straight into teasing the president. "I apologize for doing it, but I broke your retweet record," she said, as the audience cheered.
Watch Obama's unfazed response below:
"I heard about that. I thought it was a pretty cheap stunt myself, getting a bunch of celebrities in the background, you feeding them pizza," Obama dryly said.
In case you've forgotten, this was DeGeneres' star-studded selfie from the Oscars ceremony:
And this was Obama's previous record-holding photo, featuring the president and First Lady Michelle Obama in a victory hug after winning reelection:
Of course, this is not the first time that Obama has needled a talk show host. Last week, he appeared on comedian Zach Galifianakis' parody show Between Two Ferns, where he lobbed some insults in the name of promoting health care. He also called into Ryan Seacrest's radio show and has recently roped in celebrities such as LeBron James to market health care towards young people.