15 Surreal Places Around the World That We Need to Preserve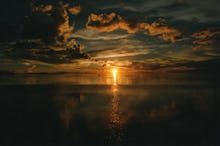 The world is full of rare beautiful places ripe for exploration, travel and, ever increasingly, preservation. From rising sea levels creeping up in Southeast Asia to clouds of billowing smog in California, climate change is creating new "natural" phenomena of its own. But what will happen to many of Earth's islands, forests, seascapes and canopies that took centuries to make? 
In addition to lowering global GDP, compromising human health and shutting down daily human activity, unmitigated pollution and CO2 levels are putting the natural wonders we've previously enjoyed at risk. International preservation organizations have concluded that climate change will compromise, if not destroy, the Great Barrier Reef, Mount Kilimanjaro and other natural wonders of the world. 
Here are 15 surreal places that are a testament to the sort of beauty we should think about preserving:
1. Reed Flute Cave
This beautiful cave is located in Guilin, Guangxi, China. It is a natural limestone cave that illuminates like a city skyline under multicolored lighting. 
2. Lower Antelope Canyon
Antelope Canyon in Arizona is split into two breathtaking slot canyons: the Upper Antelope Canyon and the Lower Antelope Canyon.
3. Salar de Uyuni
The Salar de Uyuni is the world's largest salt flat. Located in Southern Bolivia, it holds around half of all the world's reserves of lithium. 
4. Finnish Lapland Snow
This winter landscape stands perfectly pristine in the heart of Finland.
5. Iguazu Falls
These cascading falls billow on the border between Argentina and Brazil. 
6. Michigan's Ice Caves
Located right by Lake Michigan, these ice caves are hard to reach. Nature enthusiast and photographer Tony Auch called his journey to the impressive caves a "once in a lifetime" experience.
This video captures just how impressive they really are:
7. Gullfoss
Gulfoss, translated to "golden waterfall," is located in Arnessysla, Iceland. 
8. Auster-Skaftafellssysla
A colorful rainbow rises over a volcano in Iceland. 
9. Dead Sea
 The historic body of water is rapidly disappearing. 
10. Coral Reef in Palmyra Atoll
The coral reef, the heart of sea life, will be one of the first things to go if water pollution and toxic waste dumping is not controlled. 
This particular coral reef is at the Palmyra Atoll National Wildlife Refuge.
11. Aitutaki
Tiny islands, like this one located in Aitutaki, Cook Islands, could be overrun by rising sea levels in the coming years.
12. Corcovado Mountain
Corcovado and Sugarloaf Mountains in Brazil tower over Rio de Janeiro.
13. Tunnel of Love
Ukraine's romantic "Tunnel of Love" looks like something out of a fairy tale.
14. Moeraki Boulders
These large, spherical boulders can be seen all along New Zealand's Koekohe Beach.
15. Mt. Kilimanjaro
The dormant volcano is the tallest mountain in Tanzania.