1 in 8 Deaths Across the World Are Linked to This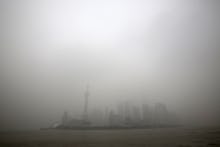 The news: According to the latest report by the World Health Organization (WHO), air pollution is now the world's "largest single environmental health risk." About 7 million people are estimated to die every year due to exposure to air pollution — that's one in every eight deaths.
If you don't find that number disturbing on its own, keep in mind that it's more than double the WHO's previous estimates. "The risks from air pollution are now far greater than previously thought or understood, particularly for heart disease and strokes," said Dr. Maria Neira, WHO's public health director. "Few risks have a greater impact on global health today than air pollution; the evidence signals the need for concerted action to clean up the air we all breathe."
The stats: The WHO found that southeast Asia and the western Pacific regions had significantly higher incidences of air pollution-related deaths, though the problem remains a global one.
Image Credit: WHO
What were some of the most common causes of death? Nearly 70% suffered a stroke or ischaemic heart disease, while other reported illnesses include lung cancer, acute lower respiratory disease and chronic obstructive pulmonary disease.
Image Credit: WHO
Also, to break it down even further, children made up nearly 10% of air pollution deaths caused, while men were affected significantly more than women.
What can we do about it? China and France have been attempting to battle their smog problems by expanding the carbon market and introducing driving restrictions. But the fact is that air pollution remains most problematic in developing areas that use unclean sources of energy. In 2012, household pollution from using coal, wood and biomass stoves indoors (which have all been linked to cardiovascular and respiratory disease) is estimated to have killed around 4 million people.
So while it's heartening to see big power-players step up to change the way they consume energy, air pollution remains deeply tied to global wealth disparity, and low-income populations' lack of access to affordable, alternative sources of energy. This global problem cannot be fought with national solutions, but only with a comprehensive international approach that tackles the roots of energy access and power.