One College Is Offering a Very Serious Class on Miley Cyrus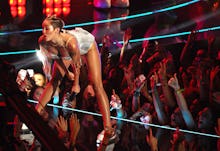 Die-hard Miley fans and pop culture junkies, you might want to clear your schedules: Skidmore College is offering a summer course on "The Sociology of Miley Cyrus." 
A look through the course outline proves the syllabus is not filled with YouTube clips of twerking and enormous foam fingers. The class earnestly addresses the topic of Miley — and a sincere look at her cultural relevance is well worthy of a college course. 
Professor Carolyn Chernoff, who is teaching the class, explains in her course description that they will "explore core issues of intersectionality theory, looking at race, class and gender, as well as a feminist critique of media, using Miley as a lens through which to explore sociological thinking about identity, entertainment, media and fame."
Image Credt: AP 
That's a whole lot to unpack. But thankfully it means academia is accepting the fact that the very themes, questions and complexities that have defined human civilization are readily apparent in today's sex-saturated, social media-driven world of pop culture. And college students, especially those headed into the Internet-writing-world, need to be equipped to take all that on. 
Miley is not the first pop star subjected to academic scrutiny. Rutgers University made headlines earlier this year by offering a course called "Politicizing Beyoncé" that sought to explore issues of race, class, gender and politics through examining Bey's music and career.
Taken together, these courses are a good sign that academic institutions are recognizing the value of studying today's pop stars. Pop culture consumes and defines everything, especially in the lives of college students. With that in mind, it's more important than ever to take a deep look at what icons like Miley say about our world and ourselves. Twerk on.