Syria Launches New Airline, Because That's What a Country at War Needs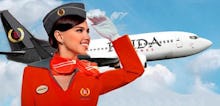 From the epicenter of the world's next-largest refugee crisis, mass violence and the destroyed cities of Syria's civil war comes not peace, but a new airline company.
Out of the shadows of the Geneva II peace talks, Kinda Airlines is hoping that global discussion about the country's future could bring in business. Desperate to end a civil war and provide aid to starving refugees, a new airline company might be the last thing Geneva talk participants — or the rest of the world — feels Syria needs. 
Kinda will cater to Syrian citizens traveling, for the most part, to locations in the Middle East and Gulf region starting in May.
While most airlines have stopped flying over Syria since the civil war, now in its third year, gripped the country, Kinda will be launching an airline fleet out of Damascus International and the coastal city of Latakia. Both areas have seen massive violence in recent weeks. 
Image Credit: AP
Esmail Sharaf, Kinda's vice commercial manager, told Bloomberg his hopes for the company: "We had a tourism industry — it was hit, but it will come back. There is commercial logic, there is profit, there are passengers coming into and out of Syria, so we're optimistic ..."
In addition to innumerable security threats and questions about priorities, Kinda will face a slew of sanctions from the likes of the EU, the United States and the Arab League.