'Frozen' Is Nothing Like the 9 Other Highest-Grossing Movies of All Time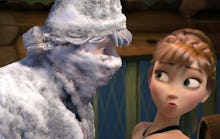 It's hard to believe that a mere six months ago we were living in a Frozen-less world. Since the movie's November release, it's made what seem to be daily headlines for a variety of reasons: its empowering and progressive message, its status as the first film directed by a woman to gross over $1 billion, its Oscar win and its incredible star Adele Dazim. And now Frozen is back in our news feeds as it is officially the highest-grossing animated film ever, not to mention one of the top 10 highest-grossing films of all time.
A perusal of the other top 10 grossing movies proves what a triumph Frozen's place on that list really is. No. 1 and No. 2 are James Cameron super-projects, No. 3 through No. 9 are either action flicks or franchises and then there's Frozen. 
Among this crop of superheroes and end-of-the-world fiascos, Frozen is the little engine that could. If there were any lingering doubts about women's bankability at the box office, then this film starring two women and co-written and directed by women (the only film on the list with so much girl power) should completely obliterate any lingering doubts. Check out who Frozen is up against and experience the feels that Frozen's top 10 status as the only animated, only musical, only woman-fueled top 10 film will supply.
1. 'Avatar' - $2,782,275,172
The No. 1 grossing movie of all time, Avatar put high-quality 3-D on the movie map and officially knighted James Cameron as an unstoppable force in box office money-making. Cameron wrote and directed the movie, a CGI/real people romance that visually blew audiences' minds all over the world even while it got wrist-slapped for being a Pocahontas rewrite. 
2. 'Titanic' - $2,186,772,302
The second incredible feather in James Cameron's cap, Titanic was released in 1997 and was another Cameron-written and -directed masterpiece. When looking at the rest of this highest-grossing list, it's pretty incredible that one man is behind the top two films and even more incredible that he broke box office records with two films that are, at heart, love stories. 
3. Marvel's 'The Avengers' - $1,518,594,910
No. 3 on this list announces the arrival of Joss Whedon along with the arrival of superhero action movies. Released in 2012, The Avengers was a star-packed, franchise-uniting extravaganza that crammed all of Marvel lovers' favorite action heroes into one two-and-a-half-hour romp. As this list proves, action movies spell universal success.
4. 'Harry Potter and the Deathly Hallows: Part 2' - $1,341,511,219
The last film in the Harry Potter franchise (or at least the last film for now), Harry Potter and the Deathly Hallows: Part 2 had a beloved book series and seven previous movies to give it a running start at the box office. Directed by David Yates (who did a handful of the Harry Potters), this 2011 movie was the cherry on top of more than a decade of Harry Potter fanfare.
5. 'Iron Man 3' - $1,215,439,994
Obviously the third in the franchise, this Iron Man also came into the box office with a running start: Before the first ticket was even sold, audiences had two previous movies as well as a comic book series to whet their appetites. Directed by Shane Black, the man behind the Lethal Weapon movies, Iron Man 3 was yet another box office action extravaganza.
6. 'Transformers: Dark of the Moon' - $1,123,794,079
Even being called "the worst movie ever" couldn't keep an action powerhouse (not to mention notable franchise and beloved toy) from raking in over $1 billion. A Michael Bay mishmash, the movie proved yet again how much a recognizable name (Transformers) and action-packed debacle (robots fighting to the death) can send people all over the world racing to the movie theater. 
7. 'The Lord of the Rings: The Return of the King' - $1,119,929,521
A pattern is obviously emerging here: Like Iron Man 3 and Harry Potter and the Deathly Hallows: Part 2 before it, The Lord of the Rings: The Return of the King was the last in a series and a massive moneymaker. Directed by Peter Jackson, the movie rounded out the Lord of the Rings trilogy and was the only movie of the three to break the billion dollar mark.
8. 'Skyfall' - $1,108,561,013
James Bond has been a movie hero since 1962, so he really had a six decade build-up to cracking that billion dollar threshold. Of all the Bonds, it took Daniel Craig, director Sam Mendes and a powerhouse song by Adele to make box office history. 
9. 'The Dark Knight Rises' - $1,084,439,099
Have you sensed the big money pattern yet? Long-running franchise plus action plus beloved character equals huge movie money. So is it any wonder we are seeing Batman on this list? With Christian Bale as Batman and Christopher Nolan in the director's chair, The Dark Knight Rises pushed into the elite top 10 category.
10. 'Frozen' - $1,072,402,000
After going through the nine preceding movies, the presence of Frozen on this list should feel like even more of a triumph. Even though Frozen is a Disney film, compared to the James Cameron mega-movies, action movies and the book-to-film franchises, this kind-hearted, kid-geared musical sticks out like a beautiful and unexpected win. Oh, and did we mention the women?