Can You Name That Hip-Hop Song in 3 Seconds?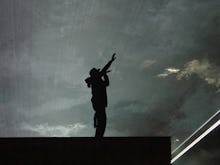 Hip-hop may seem like a young genre, but it's really 30-plus years old. And in all those years it's created legions of fans who claim they're true fans, when in reality, they wouldn't know "H.A.M." from "C.R.E.A.M."
So we're putting your knowledge to the test. Here are 15 three-second clips from the some of the most important hip-hop songs of all time. If you can recognize them all, you're probably legit.
The first five should be super easy, the next five are more challenging and the final five are the deepest, significant cuts we could find. Keep track of how many you get and check your answers below.
ANSWERS
1. "Jesus Walks" by Kanye West
In an era of "In Da Club," "Tipsy" and "Get Low," a young producer from Chicago took hip-hop out of the club and into the church. Kanye's softer, more socially conscious content also cleared the way for rappers like Drake and Kid Cudi to blast into the mainstream, and for Kanye to annoint himself "Yeezus" nine years later.
2. "Nuthin' But A G Thang" by Dr. Dre & Snoop Dogg
If anyone uses the phrase "West Coast hip-hop," this is what they're talking about. Dre's lush, pristine production, combined with Snoop Dogg's effortless, laid-back flow, shows a chiller side of gangsta life compared with the "crazy motherfucker" attitude of N.W.A.
3. "Hard Knock Life" by Jay-Z
Jay was just Biggie Jr. for the first few years of his career, but he came into his own with this monster Broadway-sampling hit. The song gave Jay a bigger taste of success than he'd ever known, pushing him to build perhaps the most impressive hip-hop career ever.
4. "B.O.B." by OutKast
The funkiest duo from Atlanta ushered in the new millennium with a return to electric guitars, frenetic drumming and of course, two of the fastest, greatest verses of all time.
Catch OutKast on tour this year.
5. "Stan" by Eminem
On "Stan," Eminem proved that he wasn't just famous for the shock value. The song is an epic, horrifying masterpiece, told in a half-rap, half-spoken word style that hadn't been heard on the radio before.
6. "N.Y. State of Mind" by Nas
With perhaps the greatest first line of all time ("Rappers, I monkey flip 'em with the funky rhythm I be kicking, musician, inflicting composition"), Nas put himself on the map and made New York the undisputed capitol of hip-hop.
7. "The Message" by Grandmaster Flash & the Furious Five
Hip-hop was mostly party music before Grandmaster Flash and the Furious Five turned it into pointed social commentary on 1982's "The Message."
The fluid rapping of the Fast Five also made the emcee, rather than the DJ, the focus of modern hip-hop. Things would never be the same.
8. "Warning" by The Notorious B.I.G.
Biggie Smalls showed two sides on his classic debut, Ready to Die: the triumphant, mom-thanking rags-to-riches kid on "Juicy" and the gun-toting criminal on "Warning."
I'm not sure Biggie would win in any fistfights, but as shown on "Warning," definitely don't try to rob his house — and don't dare to step to him in a freestyle battle, either.
9. "Keep Ya Head Up" by Tupac Shakur
Whenever people call Tupac a thug, they probably haven't listened to "Keep Ya Head Up," a positive-thinking, feminist anthem. Pac was a poet and a social leader, and you can bet that if he had been alive for the first black president, he would have made it up to the White House to celebrate.
10. "Protect Ya Neck" by Wu-Tang Clan
A group of striving young rappers from Staten Island was catapulted onto the national stage by this single, which perfectly introduces nearly everyone in the Clan: the rowdy, aggressive Raekwon, the eloquent GZA and of course, the absurdist and profane O.D.B.
11. "They Reminisce Over You (T.R.O.Y.)" by Pete Rock & CL Smooth
Nearly everyone in hip-hop today is indebted to Pete Rock, one of the greatest producers of all time.
His intricate, soulful production would get passed down to producers like Dr. Dre, Kanye West, Just Blaze and 9th Wonder. He inaugurated a sound, then a movement.
12. "I Used to Love H.E.R." by Common
By 1994 hip-hop had its mainstream and its underground. All it needed was its historian. Common more than willingly took on the role with "I Used to Love H.E.R.," which uses clever wordplay and double entendres to portray hip-hop as a woman losing her way.
13. "Bonita Applebum," A Tribe Called Quest
When Pharrell Williams first heard "Bonita Applebum," he went nuts: "I was obsessed. I had never heard nothing like that in my whole life." The song would later be sampled by Pharrell himself, as well on the Fugees' "Killing Me Softly," a classic in its own right.
14. "Passin' Me By" by the Pharcyde
"Passin' Me By" is a bizarre ride. It samples Jimi Hendrix, Quincy Jones and the Weather Report, and turns to humor to narrate a set of schoolboy crushes gone awry. See you if you can catch the reference to this classic in Robin Thicke's notorious "Blurred Lines."
15. "Money Trees" by Kendrick Lamar
It's 2014 and the face of young hip-hop is Kendrick Lamar. There's no better evidence of his storytelling abilities and ear for hooks than his six-minute anthem "Money Trees," which in 10 years should rise into the canon with the rest of the songs on this list.
16. How'd You Do?
1-3 Correct: You're Soulja Boy. Turn off "Dark Horse" and "Talk Dirty" and put on some real hip-hop, A$AP.
4-6: You're Big Sean. You recognized a couple hits but have a ways to go before you can call yourself a hip-hop fan. Do better.
7-9: You're Kendrick Lamar. That Common track stumped you, didn't it? No matter. Feel free to talk about rap in conversation.
10-12: You're Busta Rhymes. You're probably either a hip-hop head, or you Googled all the lyrics. Either way, well done.
13-15: You're Jay-Z. You are hereby appointed a hip-hop legend by the power vested in PolicyMic. (Nobody actually gave us the power to do that, but feel good about yourself.) Put the title to good use.