This Is the Biggest Pop Star You've Probably Never Heard of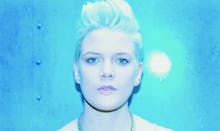 Betty Who's rise to stardom is the sort of fame reserved only for the biggest stars of the 21st century. It's happening right now, it's almost entirely beyond her control and it's happening so fast you might not even have noticed it.
When the Australian singer's new EP came out this week, it immediately rose to the top 10 on the iTunes pop charts. But as of now, most people you ask won't have heard of her. Last week, she was featured on Billboard playing her new single, but a year ago, she was like most other 21-year-old musicians. Two months ago, she topped the dance club charts — but she hadn't touched the pop top 10. Next week's issue of TIME will include a major story about how famous she's become. In one month, she'll actually be that famous. In two months, everybody will know her name.
Back in September, none of that would have been possible. She had released her single "Somebody Loves You" in late 2012 to some Internet buzz and an EP after that. Both had gotten her the attention of some labels, but neither had taken off.
Then, Spencer Stout, a man looking to propose to his boyfriend Dustin, came across the song in Salt Lake City. "The song kind of inspired me to propose to Dustin. The words were perfect for what I was feeling," Stout says.
It turns out Stout is an Internet genius. He organized a flash mob at the local Home Depot, invited his soon-to-be fiance over and surprised him with an elaborate dance routine set to Who's "Somebody Loves You." The video, released in September, garnered 11 million views. Who appeared all over national news; an unsigned artist was now a hot commodity.
Days later, Who signed with RCA. Dustin said yes, and the couple met Who at a VH1 performance in New York. Who wanted to return the favor by performing an acoustic version of "Somebody Loves You" at the couple's wedding. She probably didn't realize, though, what that wedding would entail. Spencer and Dustin got married during Macklemore's performance of "Same Love" at the Grammys in January. Queen Latifah officiated, and 28.5 million Americans vied for the bouquet. When Spencer and Dustin had their own ceremony that night, Who performed "Somebody Who Loves You" acoustically, grateful for her brilliant lucky break.
"Everybody was bawling — it was just so beautiful and special to have it come full circle," Stout says. When I talk to Stout, he's getting ready to go see Who perform for the first time Salt Lake City — the way that Who has impacted his life is abundantly clear.
Now, Who is 22 and Internet famous with more than enough good material to keep it up. She's a product of 2014, but her lyrical themes are timeless: She sings about love and the yearning, heartbreak, ecstasy and tenderness that goes along with it. It is this combination of the now and the eternal that is driving Who toward stardom.
Her latest EP, Slow Dancing, is a strong set of five songs that sounds like what would happen if indie R&B hero Dev Hynes, otherwise known as Blood Orange, got his hands on a set of Katy Perry songs, reworked them and produced them. It's modern pop you would hear on the radio but slinkier, more retro and infinitely more heartfelt. It's about to be the biggest thing in music.
It's strange, the way fame found Betty Who. Like most singers, she's sought it her entire life. In an interview with PolicyMic, she recalled "I remember being about five or six and wanting to do this. There were a lot of moments in my life when I thought I would do something else because, you know — that's kind of how it happens." But then the viral video happened and everything that came after it — and all that's left to come.
To her, it must feel as random — and as lucky — as walking into a Home Depot in the middle of the day and finding the man you'll spend the rest of your life with, dancing in the aisles.