30 Photos That Challenge the Harmful Stereotypes Toy Companies Sell You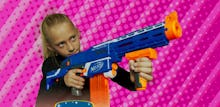 Many years ago, there was no such thing as girls' and boys' toy aisles. And why would there have been? Sure, toy companies often target children differently based on gender. But before toys diversified into the range of options available today, stores were less divided along the lines of action-figure blue and harrowing-pink tiara.
What's worse, research suggests the state of gender-based toy segregation has created a generational shift. According to a survey conducted by Global Toy Experts, moms have noticed a 25% drop in the number of gender-neutral toys their daughters play with now compared to the toys moms played with during their own childhoods. That's right, according to this data, women today are much more likely to have played with tools or a construction set than their daughters.
Image Credit: Let Toys Be Toys For Girls and Boys 
The problem isn't only gender-specific marketing. Some companies have taken this strategy a step further, pushing sexist messages to perpetuate harmful stereotypes. It's strange that in many of ways we've become a much more equal society, but in the toy aisle, we've regressed. 
Thankfully, if you're looking to buy a gift for a child, you have options. Here are a few examples of companies or people changing the gender narrative and challenging traditional playtime.
1. This microscope will wake up the little lady-nerd inside of you.
Oh hey future Marie Curie-in-the-making. How do you do? Visit MindWare for brainy toys for all genders.
2. Easy-Bake ovens are better when they're unisex.
Many remember the Easy-Bake Oven looking a lot like this, but did you know it recently got a brominist makeover?
After McKenna Pope, a young girl from New Jersey, started a change.org petition asking Hasbro to make a more gender-neutral version of its Easy-Bake oven for her younger brother, the company went right ahead and complied with her request.
Judging by how much I harassed my father for one when I was little, I don't see why Hasbro would exclude half the population from being potential parent naggers too. As it turns out, boys also like toy ovens that make real-life cookies just as much as girls do. I know, crazy!
3. President > Princess
Not to hate on princesses, but the choice seems fairly obvious. Visit Handsome in Pink to buy this shirt for your precious little one.
4. Sometimes, you just need some hair diversity.
If you're disappointed with the selection of doll hair types, you can give your American Girl a temporary afro with instructions from the Chocolate Hair Vanilla Care website. Although it's a shame that American Girl doesn't include a wide range of darker skinned dolls, at least you can give her a temporary hairdo that reflects more diverse hair types.
5. Don't underestimate the power of a girl with a Nerf gun.
Sweden's 2012 Christmas catalogue made waves for proving that you don't need to perpetuate gender stereotypes to sell toys. In fact, judging by all the free publicity the toy company TOP-TOY got after it created these amazing images of girls playing with Nerf guns and boys playing with hair-dryers, gender equality seems to be in.
TOP-TOY is responsible for approximately 50 Toys"R"Us outlets in Scandinavia. Let's hope they give American catalogues a makeover sometime soon. 
6. Dudes can be (very good) hairdressers too.
Here's another illustration from the infamous Christmas catalogue. Since research shows that it's harder for boys to deviate from gender norms than it is for girls, these images are useful in deconstructing the oppressive scripts that stymie their full expression as human beings.
7. Dolls can teach girls about flawless female leaders.
Sick of Barbie dolls talking about how much they hate math and how much they working at McDonalds? There's an alternative. Meet Ethidolls, the educational dolls that are modelled after actual African female leaders like Makeda®, The Queen of Sheba or Queen Mother Yaa Asantewaa of the Asante. The dolls are handcrafted, sport traditional hair styles and come with stories and audio books that offer historical context for the child.
8. Newsflash: Boys like dolls too.
As it turns out, the stereotype that boys don't like dolls is scientifically untrue. A recent study from the University of Western Sydney disproved that baby boys are more likely to enjoy machines than toys with faces like dolls. In fact, boys start choosing trucks over babies when they're around 5 or 6 years old, which is when children internalize gender roles.
It's hard to find gender neutral dolls, but Baby Gogo is a good place to start. As AJ points out on his blog, the doll may be one of the first gender-neutral dolls of its time, but would be even better if it came in a diversity of ethnicities. Let's hope it's coming soon.
9. Children have all kinds of abilities and so should their dolls.
It's you think it's hard to find a doll that isn't blond, blue-eyed and white, try finding one that comes with a wheelchair or who uses a hearing aid. Thankfully, American Girl has decided to launch a line of accessories such as "wheelchairs, guide dogs, hearing aids and allergen-free lunch kits" to teach girls about the importance of acceptance. You can purchase these accessories individually and use them to any doll. 
Patty Cake Doll, a website that offers a wide variety of dolls in different shapes and sizes and cultural backgrounds also sells a Down Syndrome doll, which is "designed to reaffirm the beauty and joy that dolls bring to all children."
According to the website, the doll was designed with the help of "leading national Down Syndrome organizations" and is "available for either boys or girls and in white or ethnic skin tones."
10. Some princesses don't need rescuing.
Anyone who grew up with a feminist mom knows this book very well. If you haven't read it, I won't spoil it for you, but it features an unusual amount of princess badassery, a boy being rescued by a girl and no one living happily ever after. I highly recommend it for every child in her princess phase. For the complete list of empowering female fairy tales visit A Mighty Girl's Ultimate Guide to Independent Princesses.
11. Don't assume all girls like princesses.
And don't assume a real life princess is worth interrupting her meal.
12. Mindy Kaling isn't the only female doctor of color with her own show.
If you haven't heard about Doc McStuffins, the female doctor of color who has her own show on Disney Channel and Disney Junior, you will be ecstatic. According to Feminispire, the character is not only popular amongst girls, she's also a hit with boys. In other words, if she and Dora the Explorer ran for toy president, they would definitely be the winning ticket. If you're looking to satisfy all your McSctuffins needs visit the online store.
13. Hulk + Princess = Badass
Why choose between being a princess and the Hulk if you can be both?
14. Who decided that nail polish can't be for everyone?
Although this ad that appeared in an issue of J. Crew magazine was called "blatant propaganda celebrating transgendered children" by Media Research Center's Erin Brown, it was widely hailed as a step in the right direction by many LGBT activists. For a mainstream store like J. Crew to endorse flexible gender identities is admirable. Since then, we've seen other stores like Barney's follow suit. 
15. Young girls can color outside the lines of traditional beauty.
Sick of coloring books that look like this? There's an alternative. Teach young girls that beautiful means much more than a conventional hip-to-waist ratio with this Frida coloring book. 
16. Smart really can be beautiful
It's become really difficult to find Legos that aren't geared towards girls and relying on harmful stereotypes about what it means to be feminine. This wasn't always the case. Look at this 1981 ad that recently went viral. It shows a cute redhead proud and pleased with her beautiful Lego construction, this proving that beautiful means many different things. The young model Rachel Giordano, who is now a 37-year-old naturopathic doctor, commented on the current toy marketing landscape:
"In 1981, Legos were simple and gender-neutral, and the creativity of the child produced the message. In 2014, it's the reverse: the toy delivers a message to the child, and this message is weirdly about gender," she wrote on Women You Should Know.
17. Don't mess with a bunch of girls who know how to work together.
Tired of seeing girls being pinned against each other in competition for looks and popularity? Well that's not the only possibility. The Half the Sky Movement has come out with a new game encourages cooperation, sisterhood and empathy.
Half the Sky Movement Game not only teaches children valuable skills, but it also enables players to make donations to girls in developing countries through the completion of quests throughout the game. That, in combination with voluntary monetary pledges, has helped raise more than $470,000 in direct and sponsored donations.
So far, their community manager has told PolicyMic that 1.25 million people have played the game, which has helped garner $470,000 in direct and sponsored donations.
To play Half the Sky Movement Game, click here.
18. Some children have two moms and that's okay.
You might know FCKH8 for it's awesome LGBT advocacy and cool T-shirts, but did you know that they crafted a campaign that exported 10,000 Russian kiddies coloring books during the Sochi Olympics? After Russia passed some of the most draconian anti-gay laws in modern history, the group wanted children to know that being gay is okay. Given that homophobia is still alive and well right here at home, we could use a couple of these copies too.
19. Engineer > Princess
Goldie Blox doesn't only sell amazing toys, it's also interested in galvanizing social change. According to the company's mission statement, the founder Debbie Sterling aims is to disrupt "the pink aisle" and encourage girls to build because she "believes there are a million girls out there who are engineers," although "They just might not know it yet." 
Check out their online store for loads of fun products, none of which are tutus and tiaras.
20. Last time I checked, boys like food too.
I really hope he's got Seamless on fast-dial. You can buy this cute play kitchen for your son (or daughter) here.
21. Some dolls wear hijabs, deal with it.
Sick of seeing young girls in hijabs almost exclusively portrayed as terrorists or extremists? This doll takes these stereotypes to task.
22. If he likes to clean, for the love of god let him do it.
If there's one thing that unifies all grown-up adults, it's the hatred of cleaning. For some reason, if you look at the toy aisles, it looks like one gender enjoys it more than the other.
Take advantage of the sweet spot between the ages 3 and 7 when kids (somehow) enjoy doing house work, because any parents will tell you that phase won't last long. Given that we're used to seeing toys like this marketed as "girl stuff", this toy mop by Melissa & Doug® is more than refreshing.
23. Biracial children should find more toys that look like them.
Biracial children have enough to handle regarding figuring out their identity and place in the world without having to deal with the absence of toys they can identity with. For many parents, the biracial toy has been called the "Loch Ness monster of the doll world" because it's almost impossible to find. Thankfully, some online stores carry them. You can find a good selection on them on Patty Cake Doll.
24. The toy to help every girl channel her inner Katniss.
This is just one of the toys from Toys To Grow On that features some fierce little girls doing fierce, traditionally male, things. Thanks to the good people at Sociological Images, you can see a selection of their best gender-bending toy ads here. 
25. Embracing realistic body types ensures girls know they are beautiful just how they are.
Research shows that girls who play with Barbie dolls reduce their food intake significantly. Let's give our daughters more a more realistic role model to aspire to. Lammily, the "Average Barbie" may not be perfect, but she's a heck of an improvement from the dolls we grew up with. 
26. Dollhouses don't discriminate.
Dollhouses are one of the most iconic toys of all time. Although they've been around since before the turn of the century, they've changed a lot in the past hundred years. One of the big differences is that they have become well ... very pink.
If you find most dollhouses now are pink hot messes made exclusively for young girls, Magic Cabin has got you covered with this gender-neutral alternative. 
27. That's tool woman to you, mister.
And one more gender-neutral option from Magic Cabin.
28. Girls can play rough too.
This is just one of the T-shirts Girls Will Be is selling for active young girls. Founded by three siblings frustrated by the pinkification of shorts and shirts, the family launched their own clothing line to offer girls more choices. One of their most iconic products is a pair of shorts that's not too short, but not too baggy either. You can check out their full selection here. 
29. Ahem, female dinosaurs are also half the population.
Although we almost exclusively see T-rexes represented as male, half of them were lady-saurs. Let's remind our girls that they can be cranky crinkled creatures too! Find more empowering T-shirts like this one at Jill and Jack Kids.
30. Girls can be superheroes too.
Don't you dare tell these girls they cannot be superheroes.