There Was a Mass Protest On Sunday Vladimir Putin Doesn't Want the World to Know About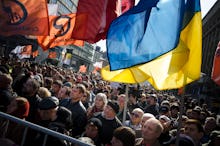 The news: All eyes are on eastern Ukraine as separatists demand to secede from the country and join Russia. But even as Russian President Vladimir Putin enjoys a tide of favorable opinion, he may have some trouble brewing closer to home.
On Sunday, 10,000 people took to the streets of Moscow to protest the state media's coverage in eastern Ukraine. Waving the Ukrainian flag, protesters at the anti-Kremlin "March for Truth" demanded greater transparency and objectivity in Russian news, as well as protection for independent journalists who speak out against the state.
"Russia's main problem at the moment is lying, a problem leading to war in Ukraine, (and) the isolation of Russia from the rest of the world," said Igor Yakovenko, the former head of Russia's Union of Journalists.
The background: Both sides of the crisis in Ukraine have been accusing each other of spreading false information that is designed to inflame nationalist sentiments and overrepresent radical stances. Critics of the separatist movement in eastern Ukraine believe that the Russian media is overblowing the actions of a few hundred rebels, some of whom have been accused of being Russian agents provocateur.
Just in the past few weeks, the Russian government has also removed the editor of the popular news site Lenta.ru and forced an independent news channel to close. Last month, it blocked access to forums that voice opposition and to the blogs of famous dissidents such as Alexei Navalny and Garry Kasparov.
There's some dissent in the ranks as well. In a high-profile act of protest, an anchor on the state-funded channel Russia Today quit on-air last month, after another anchor criticized the network's coverage of the occupation of Crimea two days earlier.
In turn, Russia has accused the West of "harsh, uncompromising information war." After NATO released satellite images of 40,000 Russian troops on the border with Ukraine, the country's foreign and defense ministries claimed the organization was trying to sabotage the peace process. "We see what NATO is doing in Ukraine to prevent them from normalizing ties with us. Horror stories about the Russian armed forces are being spread," said deputy defense minister Anatoly Antonov.
Russia has also claimed that Ukraine is responsible for inciting the violence in its eastern regions, with the cooperation of the CIA and other Western government agencies.
The issue of free speech is not a new one in Russia; this February, weeks before the Russian occupation of Crimea, Reporters Without Borders released its annual World Press Freedom Index. Out of 180 countries, Russia ranked in lowly 148th place — below countries such as Libya, Chad, Ethiopia and Myanmar.