Kosovo, Slovenia and Even Liberia Have Taken the Landmark Step America Is Still Waiting For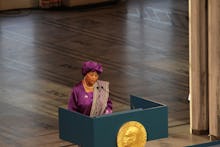 While the U.S. wrangles with whether we are ready for a female president ahead of the 2016 election, other countries have already answered the question with a decisive yes. From South Korea to Chile, likely and unlikely nations are led by women. As a generation tuned into international politics, we have to ask: Why is the idea of a woman president still so alarming in the U.S.? 
The U.S may have grown accustomed to having predominately male leaders, but on an international scale, we're not like many of our peers. Though women make up approximately half of the U.S.'s population, they hold fewer than 20% of legislative seats. And out of 44 presidents, not one has been female.
A leader's sex does not define his or her leadership agenda. Michele Bachmann's anti-gay and anti-choice views and John McCain's support for female leadership are evidence of that. Having a woman in office does not mean the advancement of gender equality or an end to corruption. But Americans ought to wonder whether our electoral process favor the status quo of male leadership.
Hilary Clinton's leadership as former secretary of state and Elizabeth Warren's tenure as senator, as well as the rise of presidential hopefuls like Michele Bachmann or, to an extent, Sarah Palin, have started some serious public discussion about women in power. In the meantime, the American public could learn that beyond our borders, women are taking leadership roles in government. Whether their policies and leadership style are commendable, that's for you to decide.
Here are 17 countries that currently have women in power:
1. Park Geun-hye, President of South Korea
Park is the first woman elected to lead South Korea. After the election in early 2013, she has branded herself as the "president for the people." Since then, she has had to manage the increasingly hostile situation between her country and North Korea. Needless to say, North Korea doesn't like her. 
2. Helle Thorning-Schmidt, Prime Minister of Denmark
Thorning-Schmidt is a member of the Social-Democrat party and was elected into office in 2011. She has scaled back anti-immigration laws and ushered in new tax and welfare reforms. 
3. Dilma Rousseff, President of Brazil
Rouseff, the first woman to become president in Brazil, manages the world's seventh-largest economy of nearly $2.4 trillion. Before assuming office, she was the chief of staff to former President Luiz Inácio Lula da Silva. Recently she criticized the U.S. after reports revealed that the NSA had been intercepting her emails. 
4. Ellen Johnson Sirleaf, President of Liberia
Sirleaf is the first woman to be elected head of state in Africa. A global icon, she won the Nobel Peace Prize in 2011 for her dedication to women's rights and strategic peace-building initiatives. 
5. Dalia Grybauskaite, President of Lithuania
Nicknamed the "Iron Lady" for her cutting way with words and her athletic background, Grybauskaite stands as Lithuania's president. She has focused a significant amount of her time on reducing the country's unemployment. She won elections in 2009 with the highest victory margin ever recorded for the country. 
6. Michelle Bachelet, President of Chile
Bachelet again took office in March 2014 as president after being in power from 2006 to 2010. She was and is the first woman to run Chile. Back in 2000, she was appointed minister of health. Her successful health policies made her somewhat of a national celebrity. 
7. Angela Merkel, Chancellor of Germany
While the official president of Germany is Joachim Gauck, that position is often considered largely ceremonial. The chancellor wields most of the day-to-day power. Merkel has been the chancellor of Germany since 2005. She has led new health care reform and energy development initiatives, and has been called the "de facto" leader of the EU. Forbes recently named her the most powerful woman in the world. 
8. Catherine Samba-Panza, Interim President of the Central African Republic
Previously the mayor of Bangui, the capital city in the CAR, Samba-Panza was appointed president in January 2014. She is tasked with eliminating the massive ethnic and religious violence that has swept the country. She is labeled as "non-partisan."
9. Alenka Bratušek, Prime Minister of Slovenia
Bratušek is the first female head of state for Slovenia. Elected in 2013, she was tasked with forming a new government. Despite widespread criticism and doubt, she has succeeded. She is known for her hard-line policies in combating the country's economic recession. 
10. Joyce Banda, President of Malawi
A teacher and women's rights activist, Banda became president of Malawi in 2012 after the sudden death of Bingu wa Mutharika, under whom Banda was vice president. A leader in business and gender equality, Banda is considered one of the world's most important women. 
11. Yingluck Shinawatra, Prime Minister of Thailand
Yingluck is a Thai businesswoman and sister to now-exiled former PM Thaksin Shinawatra. She is facing mass protests from civilians and accusations of corruption. 
12. Erna Solberg, Prime Minister of Norway
Solberg is the second female Prime Minister of Norway, after Gro Harlem Brundtland. She assumed office in 2013 as is a member of the Conservative Party. In 2004 Solberg, as Minister of Local Government and Regional Development, rejected a request for asylum in Norway by Israeli nuclear whistleblower Mordechai Vanunu.
13. Marie-Louise Coleiro Preca, President of Malta
Coleiro Preca, at 55, is the youngest person elected to lead this country. She is a member of the Labour Party and was sworn in just earlier this month, on April 4. Recently she has gained media attention for efforts to help impoverished migrant workers and reduce unemployment. 
14. Sheikh Hasina, Prime Minister of Bangladesh
Sheikh Hasina assumed office as prime minister for the third time this year, after leading the country from 1996 to 2001 and again in 2012. Her 2014 election was marred by violent protests, in which 18 people died. She is tasked with reinventing Bangladesh's struggling garment industry after a series of horrific tragedies. 
15. Cristina Fernández de Kirchner, President of Argentina
Previously enjoying a relatively strong public image, Fernández de Kirchner has recently come under fire over the handling of Argentina's economy. 
16. Laura Chinchilla, President of Costa Rica
Chinchilla is the first woman to be elected president of Costa Rica. She is a member of the Socialist International party, but is a social conservative. While she is against gay marriage, she has supported calls for the adaptation of a legal framework for same-sex couples. She opposes abortion. 
17. Atifete Jahjaga, President of the Republic of Kosovo
Before assuming office in 2011 after elections, Jahjaga was the deputy director of the Kosovo Police. She has spearheaded Kosovo's integration with the EU. One of her main goals has improving Kosovo's democratic institutions.