The Cities With the Worst Air in America Have Been Revealed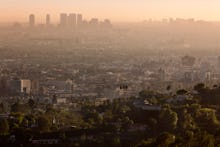 The news: Air pollution in China has been making headlines, as smog in the country's most populated cities gains notoriety. But when it comes to clean, breathable air, is the United States really much better?
According to the American Lung Association, not really. Though air pollution in America has gotten better in the past decade, the group's latest report found that a whopping 147.6 million people in the United States live in areas with dangerous air quality — that's nearly half the entire country and almost 16 million more than what last year's report found.
The study found that while there has been a national trend toward cleaner air, the country's most polluted cities actually saw their air quality grow worse. Carbon emissions and vehicle emissions are at fault, although there is a lot of pollution from wood-burning fires as well.
The rankings: Making a definitive assessment of a city's air pollution level is complicated, and as such, the ALA's report judged America's most polluted cities by three different metrics.
First by ozone pollution:
Then by year-round particle pollution:
And finally by short-term particle pollution:
Image Credit (all): American Lung Association
What does this mean? Though the study used three different indicators, the end results are pretty much the same: The cities with the worst air pollution are in California, especially centered around the greater Los Angeles area. Conversely, the cities with the cleanest air were Bangor, Maine, Bismark, N.D., Cape Coral-Fort Myers, Fla. and Salinas, Calif. 
"The Clean Air Act has helped us come a long way," said Janice Nolen, assistant vice president at the ALA. "But we have 120 days of unhealthy air in Los Angeles and other places, so we have to keep pushing because we know cleaning up the air has an impact on human health."
While some of California's air pollution can certainly blamed on the state and region itself, it may also be fair to lay some of the blame on China and its increasingly dense smog. Two separate studies from earlier this year came to the same conclusion that China's smog is so problematic that it's affecting weather patterns around the rest of the world, especially in the U.S., and based on California's proximity to China, you can probably bet that there's some connection here. 
The report does include some encouraging news: There has been an overall decrease in air pollution in recent years. But that doesn't change the fact that the country's most polluted cities are becoming worse, and we're becoming a country where half the people do not breathe clean air.