How Pharrell Has Shaped Modern Pop Music in More Ways Than You Realize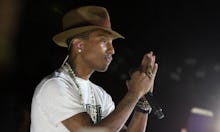 Somehow, in all this excitement over Pharrell (who, in case you forgot, was behind three of the biggest songs of the year), everybody missed that "Happy" was originally written for and recorded by Cee-Lo Green. We were all on the verge of another "Forget You"-style moment, and Pharrell would never have become the global-trendsetting UN ambassador he is today. He never would have cried on Oprah.
But Pharrell has been in the shadows of the pop world for a long time, and he's had a bigger influence than anyone realizes. He wouldn't be as successful as he is today if he hadn't created our modern pop tastes in the early 2000s. Back when we were growing up, he laid the groundwork for the massive R&B, hip-hop and pop merging that currently dominates American music.
Here's how he made modern pop:
1. He is the mastermind behind N'Sync's "Girlfriend."
Jay-Z should take some credit too for making this song happen.
He introduced Pharrell to Justin Timberlake when the three were hanging at a club in NYC, and suggested they work together. Pharrell agreed, hit the studio with the pretty boy group and they came out with the track "Girlfriend." Years later, Timberlake would take his early pop influence and remake it as a force for some of the best neo-R&B out there.
2. He made Britney Spears' first grown-up sex song.
Pharrell actually originally wrote "Slave 4 You" for Janet Jackson, but during the "Girlfriend" sessions, when Justin Timberlake asked if Pharrell would write a song for JT's girlfriend at the time (Britney Spears), Pharrell decided to give the track to her instead.
The song revolutionized Britney's career and repositioned her whole image from high school flirt to someone older and with more agency. This song was a good example of early hip-hop and pop crossover. Originally written for an R&B artist, it became a staple for the pop singer.
3. He brought solo Justin Timberlake into the world.
When it came time for Justin Timberlake to cut his first solo album, Justified, Pharrell was one of the first people he tapped. JT said of Pharrell, "We had such a connection [that] it was a no-brainer to work with him again." They apparently became best friends during those sessions, sharing a similar sense of "fun, spirituality and musical direction."
That connection made for some incredible, historic pop music.
4. He made Gwen Stefani a beat-monster.
When Gwen Stefani decided to go solo, she took a page from JT's book and went to Pharrell for a hit.
They were looking to show the world something that the people had never seen her do with her former band, No Doubt. Pharrell went to Stefani's roots, imagining the younger Stefani who was a dedicated member of her school's swim team. He wanted to capture that energy — that "We Will We Will Rock You" foot-stomping. You can hear exactly those sounds in the song's percussion line.
5. He brought Madonna to the hip-hop "Candy Shop."
Madonna and Pharrell apparently had some serious problems when they were cutting songs for her 2008 Hard Candy album. There was a melody she couldn't hit, and she took it out on him. They got into a fight and he made her cry. "I totally made her cry like. Like a baby. I had to get her a towel," said Pharrell when he described the incident. 
In bringing the pop queen to hip-hop beats, though (and introducing some trademark Pharrell bongos), he kept the pop, R&B and hip-hop gears turning.
6. He wrote the catchiest pop-rap hook ever.
When Pharrell wrote the hook to "Hot In Herre" with Nelly, he knew he had struck gold. He and Nelly started dancing around the room going nuts to it, but none of the other execs and engineers in the room felt it. Pharrell had to do some serious convincing to get the Nelly's industry reps behind the song.
To this day, it's one of the most memorable rap hooks, and one of rap's huge crossover hits.
7. He made Kelis' "Milkshake."
Pharrell had worked with Kelis on two of her previous albums, but she saw very little success until 2003 when the song "Milkshake" launched her to the top of the R&B charts.
The dissonant bass surges and odd bongo patterns are signature sounds of Pharrell's early hip-hop style. They can be heard all over his N.E.R.D. projects and Clipse's incredible debut album. But in Kelis' hands, they became mainstream ready.
8. He made one of the best retro-R&B jams with a rap star.
According to Tyler, the Creator, Frank Ocean's partner in crime, the first versions of the song apparently sounded completely different before the two stretched outside their comfort zones by layering those synths and harmonies.
The final version has an amazing, expansive '80s R&B ballad sound that stands out from both artists' other work, which tends to be more minimal and funky.
9. He made Beyoncé's first single.
Pharrell and Queen Bey have been working together throughout the latter's career. Pharrell gave her her first single, which was promoted in conjunction with Austin Powers: Goldmember where Beyoncé played Power's love interest, Foxy Cleopatra.
The song was not a commercial hit, but it established an early funky R&B sound that she would build on with tracks like "Kitty Kat" and "Green Light" (both written and produced by Pharrell). Her career has been a huge part of R&B's recent pop success.
10. He brought Snoop Dogg and Mariah Carey together on 'The Emancipation of Mimi.'
This track was the seventh single release off of R&B pop star Mariah Carey's hugely successful The Emancipation of Mimi. Pharrell helped assemble all the pieces of the song abd recruited Snoop Dogg, whom Pharrell had worked with several times before.
Snoop Dogg described the spontaneous recording process in an interview with MTV: "We were working in the same studio. I was in the front end and she was in the back, and Pharrell actually made it happen. He was like, 'Come down the hallway and get on this mic right now.' ... Despite her reputation as being notoriously hard to please, Mariah's very happy with the results."
Pharrell also features heavily in the video, playing the role of Mariah Carey's love interest.
11. "Wait a Minute" by Ray J featuring Lil' Kim and Pharrell
Although most people remember Ray J from the Kim Kardashian sex tape, he was actually once a pretty successful recording artist.
Pharrell helped expand Ray J's career by bringing more of a R&B melodic element to his sound on "Wait a Minute": ''We just wanted to make something different and something that felt different," Pharrell said. "I was just glad the folks wanted to go there. It's awesome when the people want to go there. It feels like there's a shift right now in music, you know. There's so many really good and brave artists taking chances."
12. He masterminded Usher's best R&B track.
Pharrell cut "U Don't Have to Call" back when Usher was the absolute crown jewel of the R&B world. The song features a Usher rap verse and sultry romantic hooks. 
Pharrell was extremely proud of the record and has volumes of praise for Usher. "He's just a maestro ... his voice is unmatched ... he supersedes what most people think he can do," he said. "I just love when we're able to do colorful black music. There's nothing like that. I love all kinds of music and all genres, but obviously just colorful black music is a good feeling for me personally ... We were even able to squeeze in two bridges, which is a rarity for pop radio."
Pharrell is having a bigger moment than most people get in a lifetime, and this was one of his last as more of a behind-the-scenes figure. But for almost two decades he's been deep in the pop world, meshing R&B, hip-hop and early 2000s pop into the defining sound of 2014.